Missouri Researchers Present 47 Papers, Panel Discussions at Leading Academic Conference
Columbia, Mo. (Aug. 30, 2007) — Missouri Journalism graduate students and professors showcased their scholarly work in 47 paper presentations and panel discussions at the 2007 meeting of the Association for Education in Journalism and Mass Communication, which took place August 8-12 in Washington, D.C.
Presenting to 14 of AEJMC's academic divisions and numerous interest groups, the Missouri researchers discussed wide-ranging issues in journalism, mass communication, public relations and advertising. Seven papers from the School received top honors at the conference.
Perhaps the most surprising award of the conference went to Yusuf Kalyango Jr., a doctoral student at the School. Kalyango forgot to note his "student" status on the title page of his submission and, as a result, actually received the second-place "faculty paper" award from the International Communication Division. Kalyango also received the Lionel C. Barrow Minority Doctoral Scholarship from AEJMC's Communication Theory and Methodology Division.
In addition to the research by current students and faculty, alumni of the School's master's and doctoral programs participated in an additional 47 paper sessions or panel discussions. Top-paper awards went to seven graduate alumni as well.
"Missouri is the incubator of the best and brightest minds in journalism and mass communication," said Margaret Duffy, acting associate dean of graduate studies at the School. "Every summer, AEJMC is an important opportunity for our students and faculty to celebrate their accomplishments, exchange cutting-edge ideas with other experts and recharge for another year of fast-paced research."
Also at the conference, Wayne Wanta, professor of journalism studies at the School, concluded his term as AEJMC president. Wanta passed the mantel of leadership to Charles Self, MA '71, the Gaylord Chair and a professor of journalism at the University of Oklahoma.
The AEJMC Photojournalism Division recognized Zoe Smith, professor of photojournalism at the School, during the conference for her contributions to the field of visual communication, scholarship and service to the division.
The following Missouri Journalism graduate students and faculty presented refereed research papers at the conference:
Top row, from left: Carrie Brown, Felicity Duncan, Aimee Edmondson, Jonathan Groves, Kyle Heim, Sungwook Hwang, Hans Ibold, Yusuf Kalyango, Hyo Jung Kim. Second row: Jeesun Kim, Sun-A Kim, Anastasia Kononova, Damian Kostiuk, Young Ah Lee, Jeremy Littau, Doreen Marchionni, Hans Meyer, Samuel Murphey. Third row: Uche Onyebadi, Tayo Oyedeji, Augustine Pang, Hyun Jin Seo, Miglena Sternadori, Daxton Stewart, Fred Vultee, Teresa Weaver.
---
Communication Technology Division
Are You Searching or Surfing?: The Effects of Searching vs. Surfing Hyo Jung Kim, doctoral student; Jeesun Kim, doctoral student; and Kevin Wise, MU journalism professor
Communication Theory and Methodology Division
The Path to War: A Second-Level Agenda-Building Analysis Examining the Relationship Among the Media, the Public and the President Shahira Fahmy, PhD '03, now at Southern Illinois University; Tom Johnson, Texas Tech University; Juyan Zhang, PhD '03, now at Monmouth University; and Wayne Wanta, MU journalism professor
New and Legacy Media Use for Information and Entertainment 2000 and 2005: Displacement or Complementarity? Damian Kostiuk, doctoral student; Margaret Duffy, acting associate dean of graduate studies; and Esther Thorson, acting dean of journalism
Incredible Media or Incredulous Audience: The Effects of Polarization and Partisanship on Media Credibility Tayo Oyedeji, doctoral student
History Division
'To the Detriment of the Institution': The Missouri Student's Fight to Desegregate the University of Missouri Aimee Edmondson, doctoral student; and Earnest L. Perry Jr., MU journalism professor
'One Hell of a Story': Information Control, News Process and the Hiroshima Bombing Announcement Samuel Murphey, master's student
International Communication Division
Presidential Hegemony in Transitioning Democracies: The Press and Public Attitudes in Africa (Second-Place Faculty Paper) Yusuf Kalyango Jr., doctoral student
Media Effects on Russian Students in the Perception of the United States of America Anastasia Kononova, doctoral student
Human Trafficking and the Elite Press: Who Sets the Agenda-Setters' Agenda? Doreen Marchionni, doctoral student
Latin American Election Coverage in U.S. and International News Magazines: The Economist and Time Maria I. Miro-Quesada, master's student
Perceptions of North Korea and Its Leader: A Comparative Study of South Korean and Western Journalists (Top Student Paper) Hyunjin Seo, doctoral student
American Pragmatism and Chinese Modernization: Importing the Missouri Model of Journalism Education to Modern China (Asian Journal of Communication Award for International Communication Research) Yong Volz, MU journalism professor; and Chin-Chuan Lee, City University of Hong Kong
Securitization: A New Approach to Framing and Media Portrayals of the 'War on Terror' Fred Vultee, doctoral student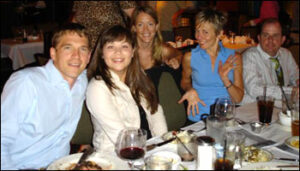 Law and Policy Division
The Debate Over Section 230: Balancing Responsibility and Free Speech on the Internet Jonathan Groves, doctoral student
Let the Sunshine In, or Else: Examining the 'Teeth' of Open Government Laws (Third-Place Student Paper) Daxton Stewart, doctoral student
Magazine Division
Selling an Issue: The Presence of Issue Stories on Covers of City and Regional Magazines Teresa Weaver, master's student
Mass Communication and Society Division
Does Gender Still Matter? Issue Emphasis in 2006 U.S. House and Senate Campaign Ads Kyle Heim, doctoral student
'Your Weight Is Whose Problem?' A Content Analysis of News Frames on Obesity-Related Coverage Hyo Jung Kim, doctoral student; and Sungwook Hwang, doctoral student
The Journalist Behind the News: Credibility of Straight, Collaborative, Opinionated and Blogged 'News' Hans Meyer, doctoral student; Doreen Marchionni, doctoral student; and Esther Thorson, acting dean of journalism
Patterns of Failure: A Functional Analysis of Television Spots of Unsuccessful U.S. Presidential Candidates (1952-2004) Uche Onyebadi, doctoral student
Harry Potter and the Exploitative Jackals: Media Credibility Attribute Salience in Young Audiences (Second-Place Student Paper) Daxton Stewart, doctoral student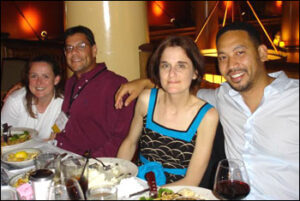 Media Ethics Division
Global Journalism Ethics at the Turn of the 20th Century? Walter Williams in the 'World Chaotic' Hans Ibold, doctoral student
Media Management and Economics Division
News Need Marketing Management Model: An Explorative Study Tayo Oyedeji, doctoral student; and Esther Thorson, acting dean of journalism
Newspaper Division
Citizen Journalism and the TMC: User Content as a Driver for a Free Newspaper Clyde Bentley, MU journalism professor; Hans Meyer, doctoral student; and Jeremy Littau, doctoral student
Bias in the Newsroom: Newspaper Staff Describe the Personal, Organizational and Structural Influences on Coverage Carrie Brown, doctoral student
Boosting the Home Team: The Framing of Business News in a Large Metro Daily Felicity Duncan, MA '07
Modern-Day Slavery: News Frames of Human Trafficking and Attributes of Trafficking Victims Jeesun Kim, doctoral student; and Wayne Wanta, MU journalism professor
Anonymous Sourcing and "Contest-Winning" Impact on Story Credibility Miglena Sternadori, doctoral student; and Esther Thorson, acting dean of journalism
Public Relations Division
Examination of Relationships as Resources in Successful PR Campaigns: Guidelines for Effective PR Strategy Development Young Ah Lee, master's student; and Sungwook Hwang, doctoral student
Building an Integrated Crisis Mapping (ICM) Model: Organizational Strategies for a Publics-Driven, Emotion-Based Conceptualization in Crisis Communication (Third-Place Faculty Paper) Augustine Pang, PhD '06, now at Nanyang Technological University, Singapore; Yan Jin, MA '02, PhD '05, now at Virginia Commonwealth University; and Glen Cameron, MU journalism professor
Radio Television Journalism Division
Political News Use and Democratic Support: A Study of Uganda's Radio Impact Yusuf Kalyango Jr., doctoral student
Scholastic Journalism Division
Why Men from Mars Stay on Mars, and the Women Roam: Differences in Journalism Student Perceptions of Study Abroad (Top Student Paper) Hans Ibold, doctoral student
Visual Communication Division
Ideological Analysis of Iraqi Civilian Casualties as Portrayed in Time Magazine's First Year Photographic Coverage, 2003 Sun-A Kim, doctoral student; and Zoe Smith, MU journalism professor
A Battle of Visions: Dramatistic Images of the Missouri 2006 Senatorial Campaign Janis Teruggi Page, PhD '05, now at the University of Florida; and Margaret Duffy, acting dean of graduate studies
Civic and Citizen Journalism Interest Group
Content Differences for an Online Newspaper Site and Its Citizen Journalism Publication (Top Student Paper) Jeremy Littau, doctoral student
Citizen Journalism and Community Building: Predictive Measures for Social Capital Generation Jeremy Littau, doctoral student; Esther Thorson, acting dean of journalism; and Clyde Bentley, MU journalism professor
Entertainment Studies Interest Group
'The Daily Show Effect' Revisited: Satire's Contributions to Political Participation and Trust in Young Audiences Daxton Stewart, doctoral student
Religion and Media Interest Group
Evangelical Christians and the Media: A Quantitative Analysis Tayo Oyedeji; doctoral student
Commission on the Status of Women
'Tale of Two Voices': Women Communicators from Mississippi Freedom Summer and a New Black Feminist Concept Brenda Edgerton-Webster, MA '02, PhD '07
First Lady Political Candidates in Semi and a Full Democracy: A Comparative Media Framing Rhetorical Analysis Yusuf Kalyango Jr., doctoral student; and Betty Winfield, MU journalism professor
Korean American Communication Association
Diffusion of Innovation Through Transportation into a Narrative World: Cornea Donation Broadcasting Campaign in South Korea Sungwook Hwang, doctoral student
---
AEJMC Panel Presentations
The following Missouri Journalism graduate students and faculty members participated in AEJMC panel discussions:
Clyde Bentley, MU journalism professor
Glen T. Cameron, MU journalism professor
Brenda Edgerton-Webster, PhD '07, now at Mississippi State University
María Len-Ríos, MU journalism professor
Crystal Y. Lumpkins, doctoral student
Geneva Overholser, MU journalism professor
Earnest L. Perry Jr., MU journalism professor
Jennifer Reeves, MU journalism professor
Missouri Graduate Alumni Participation
The following alumni of the Missouri Journalism master's and doctoral programs also presented papers or spoke on panels at AEJMC:
Stephen Banning, MA '93
Frederick Blevens, PhD '95
Youjin Choi, PhD '03
Yun Jung Choi, MA '03
Renita Coleman, MA '97, PhD '01*
Tracy Everbach, PhD '04
Shahira Fahmy, PhD '03
Vincent Filak, PhD '03*
Keith Greenwood, PhD '06
Kihan Kim, MA '01
Beverly Horvit, MA '96, PhD '99
Janice Hume, MA '95, PhD '97
Samir Husni, PhD '83
Kevin Kemper, PhD '06
Yeon Kyeong Kim, MA '04
Teresa Lamsam, PhD '03
Jong Hyuk Lee, MA '03
Robert Logan, MA '73
Renee Martin-Kratzer, PhD '05
Andrew Mendelson, PhD '97*
Ray Murray, MA '05*
Janis Teruggi Page, PhD '05
Zengjun Peng, PhD '05
Robert Picard, PhD '83*
Matthew Reavy, PhD '95*
Bryan Reber, PhD '01
Scott Reinardy, PhD '06
Laura Ruel, MA '94
Linda Shipley, MA '69
Jane B. Singer, PhD '96
Mark Slagle, MA '06
Karon Speckman, MA '85, PhD '93*
Jerry Swope, MA '02
Kjerstin Thorson, MA '06
Juyan Zhang, PhD '03
* Denotes award-winning paper
Updated: April 20, 2020
Related Stories
Expand All
Collapse All
---