Earnest L. Perry
Associate Dean for Graduate Studies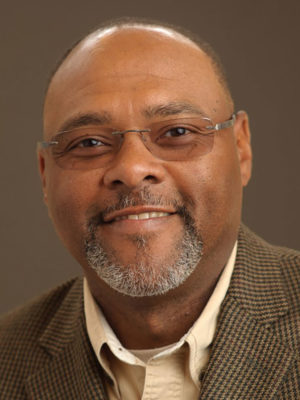 Download High-Resolution Photo
Associate Professor
179B Gannett Hall
Missouri School of Journalism
Columbia, MO 65211-1200
EARNEST L. PERRY is the associate dean for Graduate Studies and an associate professor at the Missouri School of Journalism. After earning his bachelor's degree from Texas Christian University, he joined the staff of the Columbia Missourian as a city editor. While working full time at the Missourian, Perry earned master's and doctorate degrees from the School. He has published articles on history and management in several journals including American Journalism, Journalism History and Journalism & Mass Communication Quarterly.
Perry's research interests focus on African-American press history and media management. He received a second-place award from the Association for Education in Journalism and Mass Communication in 2002 for his paper on the African-American press' negotiation for a White House correspondent.
Perry is a member of the AEJMC Standing Committee on Teaching and former chair of the Standing Committee on Research. He is a former president of the American Journalism Historians Association.
Perry worked as a reporter for newspapers in Illinois, Connecticut and Texas before joining the School. He has also served as a consultant to news outlets in Texas and Missouri on issues such as newsroom management, reporting in ethnic minority communities, news writing and editing.
Selected Publications
Books
Getting Out of Your Comfort Zone: A Guide to Reporting and Communicating Effectively About Issues of Difference, with Maria Len-Rios. Edited textbook on Cross-Cultural Journalism. Under review with Routledge Publishing.
Refereed Publications
Ferrucci, P. & Perry, E. (In Press). Double Dribble: The Stereotypical Narrative of Magic and Bird. Journalism History.
Len-Ríos, M. E., Finneman, T., Han, K. J., Bhandari, M., & Perry, E. L. (2015). Image Repair Campaign Strategies Addressing Race: Paula Deen, Social Media, and Defiance. International Journal of Strategic Communication, 2(9), 148-165.
Edmondson, A. & Perry, E. L. (2010). 'To the detriment of the institution': The Missouri Student's Fight to Desegregate the University of Missouri. American Journalism, 27(4), 105-131.
Len-Rios, M. & Perry, E. L. (2009). Assessing Cross-Cultural Learning and the Effects of Personality and Negative Attitudes on Journalism Students' Knowledge. Journalism and Mass Communication Educator, 64(3), 273.
Edmondson, A. & Perry, E. L. (2008). Objectivity and the Journalist's Creed: Local Coverage of Lucile Bluford's Fight to Enter the Missouri School of Journalism. Journalism History, 33(4).
Perry, E. L. (2003). We Want In: The African American press' negotiation for a White House Correspondent. American Journalism, 20(3), 31-47.
Gade, P. & Perry, E. L. (2003). Changing the Newsroom Culture: A Four-Year Case Study of Organizational Change Development at the St. Louis Post-Dispatch. Journalism and Mass Communication Quarterly, 80(2), 327-347.
Perry, E. L. (2002). It's Time To Force A Change: The African American Press' Campaign For A True Democracy During World War II. Journalism History, 28(2).
Perry, E. (2002). A Common Purpose: The Negro Newspaper Publishers Association fight for equality during World War II. American Journalism, 19(2), 31-43.
Perry, E. L. (2002). Wait!…Where Did It Come From? The African American press' opposition to the American Red Cross Blood Segregation Policy. Southwestern Mass Communication Journal.
Somerville, R. W., Perry, E. L., Horvit, B., & Wood-Turley, S. (1998). Spider in the Web: Free-Speech Faith v. Parental Fears. Convergence: The Journal Research into New Media Technologies, 4(4), 59-76.
Ketterer, S. E., Lee, E., Perry, E. L., Sanders, K. P., Meeds, R. W., & Yin, J. (1996). Audience and Gatekeeper Perceptions of the O.J. Simpson Trial and its Coverage. Operant Subjectivity.
Updated: August 6, 2019