Scholarly Symposium to Highlight 1908 as a Pivotal Year in American Journalism
Columbia, Mo. (Feb. 21, 2008) — A group of nationally renowned scholars and writers will help launch the centennial/dedication celebration by taking a look back at the year 1908 and its role in the history of American journalism.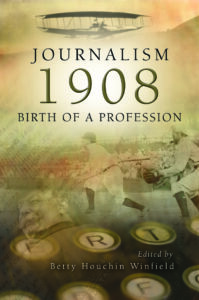 The symposium, "From Whence We Came to Where We're Going," will be held from noon to 5 p.m. Wednesday, Sept. 10, at the Donald W. Reynolds Alumni Center on the MU campus. Sixteen authors of the forthcoming book, Journalism—1908: Birth of a Profession, will lead the symposium. All authors have a Missouri School of Journalism connection, either as former students and faculty or current faculty.
The year 1908 marked not only the founding of the world's first school of journalism at the University of Missouri, but also a turning point of American journalism. New technologies, advertising practices, corporate ownership trends and demand for news set the course for modern journalism, in whatever form.
Interested parties can register to attend the symposium using the official registration form for the 2008 celebration, which will be available online and in print in late April. Cost is $25 and includes the scholarly symposium sessions, a luncheon and afternoon refreshments. There will be separate pricing for other centennial/dedication celebration events and meal functions.
The School will celebrate its centennial Sept. 10-12, with the opening of the new Donald W. Reynolds Journalism Institute, the think tank and research operation for journalism of the 21st century. The three-day celebration will include a variety of social, educational and professional activities designed to celebrate the importance of journalism to our past and to our future.
For questions about the symposium, please contact Professor Betty Houchin Winfield by e-mail at winfieldb@missouri.edu or by phone at (573) 882-5639.
Journalism—1908: Birth of a Profession is being published by the University of Missouri Press and will be available for purchase this fall. The contributors to the book will be donating proceeds to a history fund at the School, which will benefit graduate student research, speaker recruitment and more.
Top row, from left: Gail F. Baker, Stephen Banning, Maurine Beasley, Fred Blevens, Bonnie Brennen, Caryl Cooper, Sandy Davidson. Second row: Lora England, Tracy Everbach, Barbara Friedman, Berkley Hudson, Janice Hume, Hans Ibold, John Merrill. Third row: Dean Mills, Earnest Perry, William H. Taft, Lee Wilkins, Betty Winfield.
---
Program
(Missouri degrees listed in parentheses.)
12-1:15 p.m.
Lunch and Program: 1908, the Scene
Welcome: Provost Brian Foster (Missouri)
1:30-2:30 p.m.
Roundtable: Institutional Rumblings and Modernization
Leader: Jim Aucoin (PhD '93), South Alabama
2:30-2:45 p.m.
Break
3-4 p.m.
Roundtable: Reporting and Journalism's Extended Family
Leader: Barbara Friedman (MA '99, PhD '04), North Carolina
4:15-5:15 p.m.
Roundtable: The Future of Journalism Graduate and Undergraduate Education
All participants and the audience are invited to share in the discussion.
Moderator: Gail F. Baker (PhD '91), Nebraska at Omaha
Updated: April 22, 2020
Related Stories
Expand All
Collapse All
---