Missouri School of Journalism Hosts Symposium in D.C.
Columbia, Mo. (Oct. 3, 2002) — American journalism is more international in scope and more patriotic in tone in the wake of the terrorist attacks of Sept. 11, 2001, three Missouri School of Journalism professors found in a recent study. Findings from their survey will be released at a symposium Oct. 7 and 8, "Journalism and Terrorism: How the War on Terrorism Has Affected the Practice of Journalism."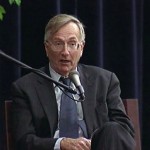 Veteran journalist Seymour Hersh will deliver the keynote speech at the symposium, which is cosponsored by the Missouri School of Journalism at the University of Missouri-Columbia and the Freedom Forum First Amendment Center. The conference will be held at the center's headquarters in Arlington, Va.
Managing editors and news directors across the country participated in the national survey. Researchers also found that:
Print and broadcast news is devoting more time and space to international news. Two-thirds of newspaper editors and even more television news directors say they're giving their communities more from abroad.
The tone of news is more patriotic. More than 80 percent of respondents say they're covering more issues related to patriotism.
The events of Sept. 11 and the resulting economic downturn have had a major impact on public and private news sources.
Additional sessions at the symposium will focus on work by other Missouri School of Journalism faculty members examining the effects of Sept. 11 on freedom of information, the state of military/media relations, international journalism perspectives and the tension of civil liberties and national security. One study, for example, found that the crackdown on access to information actually began well before the attacks. Another ranks U.S. Attorney General John Ashcroft's handling of civil liberties as the lowest compared to his predecessors.
"It's probably reasonable to conclude that 9/11 and the war on terrorism haven't changed American journalism as much as they have changed the content of the news itself," noted George Kennedy, one of the researchers and a former managing editor of the Columbia Missourian.
Moderators and panelists include Princeton Lyman, former ambassador to Nigeria and South Africa; journalists Stuart Taylor of the National Journal and Mark Thompson of Time; Admiral Craig Quigley and Cliff Bernath of the Pentagon; and media commentators Tom Rosenstiel and Deborah Potter. First Amendment Center executive director Ken Paulson and Dean Mills, dean of the Missouri School of Journalism, will open the sessions. Presenters from the Missouri School of Journalism include Esther Thorson, dean of graduate studies, and professors Brian Brooks, Charles Davis, George Kennedy, Byron Scott, Wayne Wanta and Betty Winfield.
"This is another example of how research connects the academic and professional worlds," Mills said. "We know professionals will find value in this latest research from our faculty."
Updated: February 26, 2020
Related Stories
Expand All
Collapse All
---