Dvorkin Steps Down as CCJ Director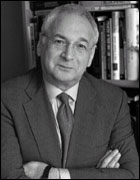 Washington, D.C. (July 2, 2007) — Jeffrey Dvorkin has stepped down as director of the Committee of Concerned Journalists, the consulting and training organization for the nation's newsrooms.
Bill Kovach, CCJ chairman and one of the founders of the organization, will step in as acting director. Dvorkin and Kovach said the change was the result of differing philosophies over future directions of CCJ.
Dvorkin became director of CCJ last July, when it joined the Missouri School of Journalism in a partnership supported by the John S. and James L. Knight Foundation. A former ombudsman for National Public Radio, Dvorkin also holds the Goldenson Chair in Community Broadcasting at Missouri.
Dvorkin will remain in the chair through October, undertaking special assignments for Missouri and CCJ.
"Jeffrey has helped steer CCJ through the year-long period of separating the organization from the Project for Excellence in Journalism," Kovach said, "and he has led CCJ as we expanded our operations to a more consultative role with news organizations that takes advantage of our affiliation with the Missouri School of Journalism. All of us at CCJ wish him good luck in his new career."
Updated: April 17, 2020
Related Stories
Expand All
Collapse All
---