Public Broadcasting Needs to Fill the Growing Gap in Serious Journalism
The 2011 Hurley Symposium Identifies Challenges in Meeting Citizens' Information Needs
Washington (April 28, 2011) — PBS Anchor Jim Lehrer told public broadcasters Tuesday they need to play a major role in filling a growing gap in serious journalism. He said that effort requires more funding and more cooperation within the public media community.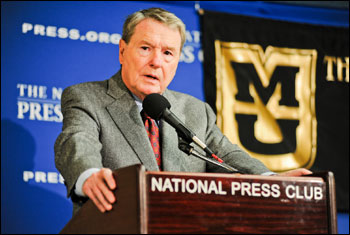 "We must fill the gaps that are being created by some of our resource-starved commercial colleagues," he said. "It's not only an opportunity as I say, I think it's a responsibility that we have in public media to do more than we are doing and I mean every element in public media."
Lehrer, BJ '56, delivered keynote remarks at the 2011 Curtis B. Hurley Symposium, "The Future of Public Broadcasting: Innovating to Create Community." The symposium, sponsored by the Missouri School of Journalism and the Eric Friedheim National Journalism Library, was held at the National Press Club and televised live by C-Span.
Calling on public media to raise money and resources and to cooperate with each other, Lehrer decried "floods" of information that "are designed or being used at least to tease and to entertain and only to inform across the surface rather than below the surface."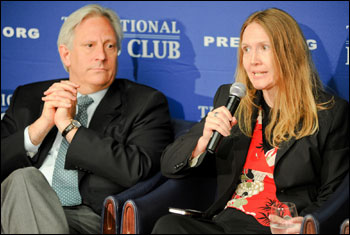 "When I say journalism," Lehrer continued, "I mean serious journalism. I hate it that I have to put that word in front of it, but I do. That's what I'm talking about. There are all kinds of journalism. The business we are in and the business public media is in, and must be more in, is serious journalism."
Just a few weeks after Congress agreed on a 2011 budget package that spared public broadcasting from elimination of federal funds, the symposium featured four top CEOs of national public broadcasting organizations. Dean Mills, dean of the Missouri School of Journalism, welcomed more than 100 who attended. Barbara Cochran, Curtis B. Hurley Chair in Public Affairs Journalism, organized the program and moderated the discussion.
Pat Butler, president of the Association of Public Television Stations, which lobbies Congress on behalf of public media, said he believes federal funding is not a partisan issue, but acknowledged, "There are more Republicans who would like to defund us than there are Democrats who would like to defund us."
The battle over federal funds is not over, he said. "What we don't want to do is be in the position where we're perpetually gasping for air and this is sort of the perils of Pauline situation on a constant basis with Congress."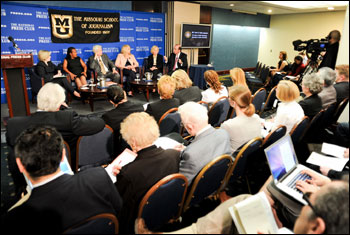 Paula Kerger, president and CEO of PBS, said some in Congress thought they were being helpful when they suggested that public media give up government funding and become commercial. Commercial media have a different focus when the outcome of their programming decisions is shareholder return, she said. "If your shareholders are on Main Street and not on Wall Street, it takes you down a very different path."
NPR has been a particular focus of congressional budget-cutting in the wake of a decision to fire commentator Juan Williams over remarks on Fox News Channel. Later, the release of a surreptitiously recorded video of NPR's chief fundraiser led to his resignation and the ouster of NPR President .
Asked how NPR is faring now, Interim President Joyce Slocum said, "Our journalism has not missed a beat. The issues have been on the management side of things."
She added, "We have gotten our management out of the limelight and put our journalism back in the limelight where it should be."
American Public Media CEO Bill Kling said the Juan Williams episode had created an "overhang" that is still affecting public media. He thought the current challenges provide "an opportunity to really rethink and relook at how we're structured, what we're funding, why we're funding what we're funding and look at what public broadcasting could be."
"Public broadcasting is probably going to be the last person standing in terms of journalism," he said.
After the CEO discussion, journalists and producers presented innovative projects they are working on in digital media. Janet Saidi, news director of KBIA-FM and an assistant professor on the Missouri Journalism faculty, described the Harvest Public Media project, an online resource on food and fuel issues that is produced by a consortium of public stations in the Midwest.
NPR Executive Editor Dick Meyer described NPR's plans to place two reporters in every state capital. "It's an area where commercial media is retreating with Custer-like force," he said.
Tom Rosenstiel, director of the Project for Excellence in Journalism and vice chair of Missouri's Committee of Concerned Journalists, presented research on public media audiences and content. He said public media have retained and even expanded their audiences better than commercial media have over the past decade and more.
Other presentations included the PBS NewsHour website, NPR's Project Argo and Public Media Platform and American Public Media's Public Insight Network.
The Curtis B. Hurley Symposium is made possible by an endowment created by Edgar A. McLaughlin and his wife to honor the Arkansas editor who loaned McLaughlin $400 in 1927 to attend the Missouri School of Journalism.
Updated: May 29, 2020
Related Stories
Expand All
Collapse All
---