Mark Carter Named CCJ Executive Director and Goldenson Chair at the Missouri School of Journalism
Columbia, Mo. (March 17, 2008) — Mark Carter, a 20-year veteran media executive, strategist, reporter and executive producer, is the new executive director of the Committee of Concerned Journalists and the Goldenson Chair in Community Broadcasting at the Missouri School of Journalism, effective today.
Carter is a founding partner of Mark Carter & Company, a leading production company with an extensive portfolio of television and online work for major clients such as The Economist magazine, The New Yorker magazine, Barnes & Noble and About.com. He will join the School's Washington, D.C., offices in the National Press Building, which also serves as home to the CCJ Washington staff.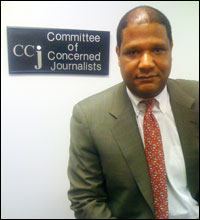 "CCJ and Missouri are delighted to be able to persuade Mr. Carter to take over the leadership of CCJ," said Dean Mills, dean of the School. "He has both the solid journalistic values and the sound business background that we need to maintain and grow CCJ's role as the leading consulting and research resource for the world's newsrooms."
As executive director, Carter will work closely with the School and the Donald W. Reynolds Journalism Institute, the advanced studies center for 21st-century journalism at the School. He will direct CCJ's consulting and research programs, designed to work in newsrooms to improve the relevance and quality of journalism. Carter also will work to engage CCJ's membership of several thousand reporters, editors, managers and owners in promoting standards and involving the public in a common effort to assure the social and economic value of a journalism of verification.
Bill Kovach, the founding chairman of CCJ, said that Carter's leadership will benefit the journalism industry.
"Mark Carter brings important skills and vision that will help the Committee of Concerned Journalists take advantage of our association with the Reynolds Journalism Institute and Missouri Journalism School to provide newsrooms the training in critical thinking, research and consultation today's communications environment demands," Kovach said. "We are all looking forward to an exciting time of creative growth and development under his leadership."
The alliance formed by the School, the Committee of Concerned Journalists and the Reynolds Journalism Institute was announced in October 2005 when the John S. and James L. Knight Foundation awarded a $2.28 million grant to the School and CCJ. The funds allow CCJ to update and expand its consulting activities using the School and Institute's nationally recognized research capabilities.
Carter will hold a faculty appointment as the School's Goldenson Chair, which was established in 1982 by alumni and friends to promote development of education and research programs that can help local stations better serve their communities. It is named for Leonard H. Goldenson (1905-1999), founder and former chairman of the board of American Broadcasting Company, Inc.
Carter began his career as a consultant with the international management and consulting firm McKinsey & Company. Later, as a television correspondent, he reported from 15 countries for CNN and Channel One, where he served as chief anchor for three years.
In the 1990s, Carter was the chief strategist for CNN during the most profitable years for the pioneer news network. He served as vice president for strategy and assistant to the CEO, where he helped chart all major aspects of competitive posture for CNN's various networks. Carter's many roles included participating in merger discussions and negotiations, shaping viewer attitudinal research, serving as chief recruiter for the news division and revamping programming. He also served on CNN's managing board for four years.
Prior to founding his own company, Carter worked at Hearst/Women.com, where he was responsible for creating television and broadband Internet opportunities for several magazine titles and for Women.com, Hearst's Internet subsidiary (now iVillage.com). During his two years with the major publishing and media firm, Carter was the principal liaison between Hearst senior management, all major magazine editors and Women.com. He also pioneered a seven-figure, multi-platform programming partnership with CBS News.
Carter is on the advisory board of the Nieman Foundation for Journalists at Harvard University, where he was a Nieman Fellow in 1995 and spent a year studying at the Harvard Business School. He is a member of the Council on Foreign Relations and the chairman of the advisory board of "Do Something," a national youth service organization. A graduate of Harvard College, Carter has studied in France as a Rotary Scholar and traveled professionally to more than 20 countries around the globe.
"Quality journalism faces more serious challenges than at any time in recent memory. Consequently, the work of CCJ is more important than ever," noted Carter. "I look forward to leading an impressive organization that has already had great impact in bolstering reporting standards in newsrooms around the country."
The John S. and James L. Knight Foundation promotes journalism excellence worldwide and invests in the vitality of U.S. communities where the Knight brothers owned newspapers. Since its creation in 1950, the foundation has invested more than $325 million to advance journalism quality and freedom of expression. For more, visit http://www.knightfoundation.org/.
Updated: April 27, 2020
Related Stories
Expand All
Collapse All
---