Professor Barbara Cochran Interviews Former Vice President Cheney at the National Press Club Book Rap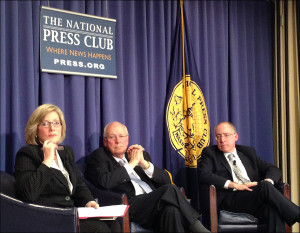 Washington (Dec. 8, 2013) — Professor Barbara Cochran interviewed former Vice President Dick Cheney and Dr. Jonathan Reiner about their book on Cheney's health to a packed audience at the National Press Club Book Rap on Dec. 3.
"Heart: An American Medical Odyssey" shares Cheney's personal story of his longtime battle with heart disease.
Cochran, the Curtis B. Hurley Chair at the Missouri School of Journalism, is president of the NPC's National Journalism Institute, which sponsors the Press Club's frequent Book Rap programs.
"The former vice president and his cardiologist have written a fascinating account of Cheney's 35-year struggle with heart disease," Cochran said. "They both contributed to each chapter, with Cheney giving the personal account of his health problems against the backdrop of the powerful positions he held throughout his political career, and Reiner providing his perspective as a physician and a history of progress and innovation in cardiac care."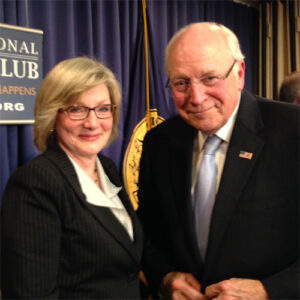 Cheney overcame five heart attacks and three major surgeries before receiving a transplant in 2012. He told Cochran that after the transplant, "It was almost like being reborn. The only thing I have left to show for having 35 years of heart disease is that I've got a scar."
Reiner, a professor of medicine and director of the cardiac catheterization lab at George Washington University, said that medical science kept advancing just fast enough to keep Cheney alive. He said the two wrote the book to give hope to those living with heart disease.
Updated: July 21, 2020
Related Stories
Expand All
Collapse All
---