Alex Mallin Named David Kaplan Fellow, Will Work at ABC News Washington Bureau
The Radio-TV Senior Plans to Report on International Political Issues After Graduation
By Gwen Girsdansky
Columbia, Mo. (Oct. 21, 2013) — Alex Mallin, a senior at the Missouri School of Journalism, has been selected as the next David Kaplan Memorial Fellow and will spend next semester working at ABC News Washington Bureau.
The fellowship was established in honor of David Kaplan, the producer of ABC's Prime Time Live who was killed in Sarajevo, Bosnia, in 1992. It has provided a paid internship at ABC News Washington Bureau and a $10,000 stipend to Missouri School of Journalism students who have an interest in network news producing for more than 20 years.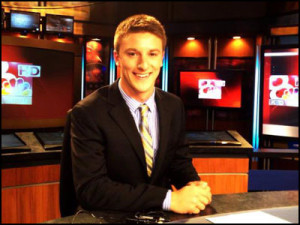 The 20th anniversary of the Kaplan Fellowship was noted in an article in the June 2013 issue of The J-School Magazine, titled "Dedicated Journalist Honored: David Kaplan Fellows Intern at ABC News in D.C." The former fellows include a reporter at Bloomberg News, a producer for CBS in London, a senior writer/editor at NBCNews.com and others who anchor, report and produce for top news organizations at the local, national and international level.
"Clearly, the Kaplan Fellowship is a life-changing opportunity for many of our fellows," said Associate Professor Mike McKean, who also oversees the fellowship search committee. "ABC News helped launch them on very successful careers."
Mallin, the 21st fellow, is from Kansas City, Mo. He hopes to produce long-form news pieces on international and political issues. Mallin is currently a fellow for KMOX radio in St. Louis and has reported for KOMU-TV and Missouri Digital News, as well as served as a broadcast writer for Newsy.
"I think the David Kaplan Memorial Fellowship has made a wonderful contribution to the world of journalism," Sally Kaplan, David Kaplan's widow, told the J-School Magazine. "I've met almost all of the students who have been selected over the last 20 years, and each of them has expressed how they have benefited from their experience at ABC News. I feel that it does an excellent job of honoring Dave's life and his love of hard news producing."
Updated: July 20, 2020
Related Stories
Expand All
Collapse All
---