Fellowship Program Honoring Fallen ABC News Journalist Reaches Quarter-Century Mark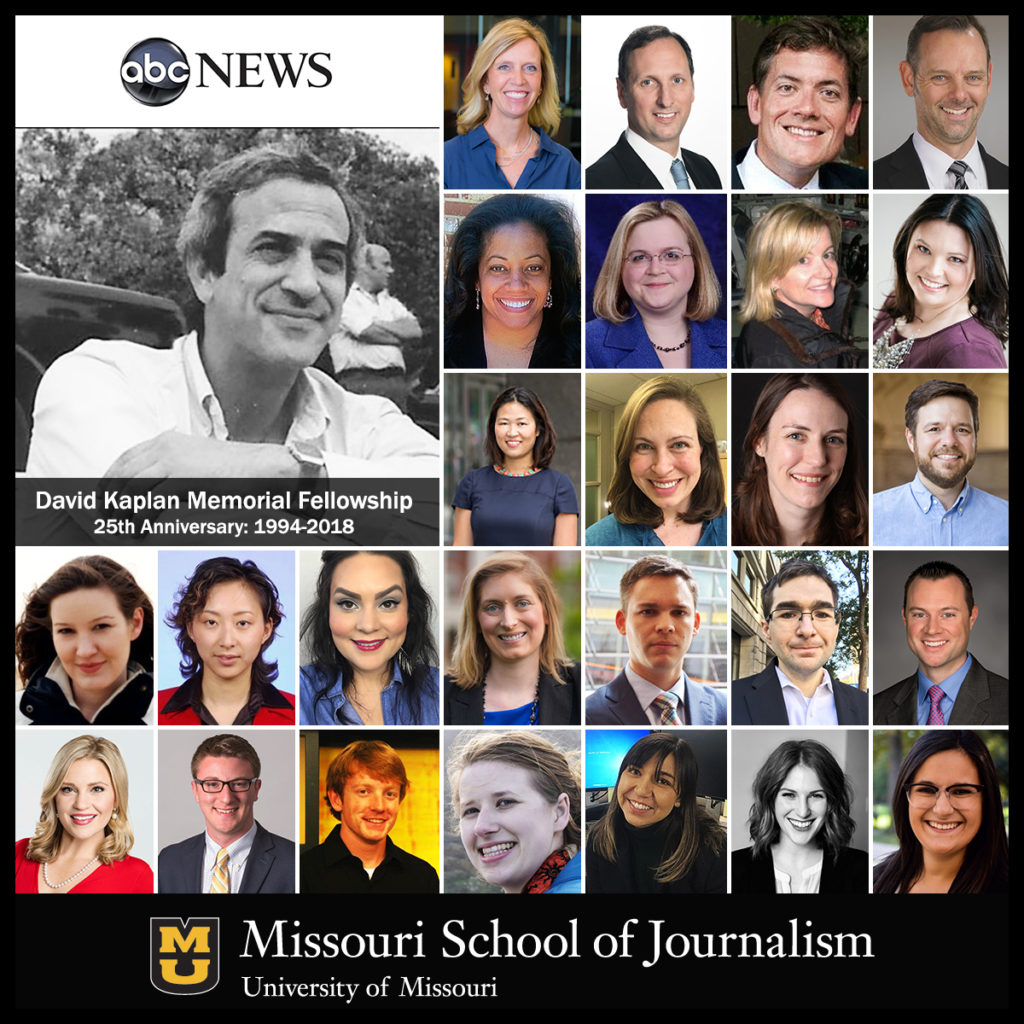 For 25 years, the David Kaplan Memorial Fellowship has provided Missouri Journalism students with an opportunity to gain hands-on experience and mentorship at ABC News in Washington.
David Kaplan Memorial Fellowship Provides Mizzou Students with Opportunity to Gain Hands-On Experience and Mentorship
By Jennifer Nelson
Columbia, Mo. (June 1, 2018) — For twenty-five years, students from the Missouri School of Journalism have had the opportunity to spend a semester at ABC News in Washington D.C. as a David Kaplan Memorial Fellow. To honor this milestone, a reunion celebration will be held Wednesday, June 6 at the ABC News Washington Bureau. There will be brief remarks from Sam Donaldson, Sally Kaplan, Bureau Chief Jonathan Greenberger, Mike McKean, and past fellows Allysa Adams and Allison Pecorin.
David Kaplan was a 45-year-old producer who was shot and killed by sniper fire in August 1992 while reporting from Sarajevo, Bosnia. Kaplan was on assignment with ABC News correspondent Sam Donaldson, who started the fellowship with financial support from other prominent journalists.
Each spring fellows receive a paid, semester-long work assignment in the bureau along with an additional $10,000 stipend. Kaplan Fellows gain hands-on experience working at the network and receive mentoring from ABC journalists. During the fellowship, students have helped with shows including Nightline, This Week with George Stephanopoulos, 20/20, World News Tonight and The Sam Donaldson Show: Live in America. They've also reported extensively for ABCNews.com.
"My favorite memories over the last 25 years of the Fellowship have been being able to meet many of the Fellows and to see them advance in their careers," says Sally Kaplan, David's widow and a former ABC News employee.
The admiration is mutual. Allysa Adams, the first Kaplan fellow, is executive producer at PBS in Phoenix, Arizona. She remembers how David's name smoothed her way through the bureau in 1994 and how fortunate she was to spend a spring evening with Sally at her home. Adams says the fellowship "inspires my passion for journalism to this day."
The fellows have covered congressional hearings and State of the Union addresses, witnessed inaugurations of new presidents, covered 9/11 and the wars that followed.
"I worked with (Sam Donaldson's) radio show during the lead-up to the Iraq War," recalls Sara Lane, 2003 fellow. "I remember logging tape of (Secretary of State) Colin Powell testifying before the U.N., trying to persuade the world to go to war with Iraq. That tape was then much discussed on the radio show."
Mary McGuire, 2013 fellow, met her "idol," ABC News anchor Diane Sawyer, while covering the State of the Union address. "She inspired me to pursue a career in journalism in the first place, so meeting her was just incredible," she says.
The semester-long fellowship also provides young Mizzou journalists the experience of working in the high-pressure national news environment.
"The fast-paced, high-stakes nature of helping build a story that millions of people would tune into that evening was riveting on a daily basis," says 2014 Fellow Alex Mallin. Currently a White House reporter and producer, as well as one of three Kaplan Fellows now working in the ABC News D.C. bureau, Mallin says he learned the "crash course of how to work in Washington" while working as a Kaplan fellow.
"Brainstorming with producers how to pick the best questions to probe lawmakers with, in sometimes four-to-five-minute segments, chasing down senators and representatives to press them for answers on the hill, and the demanding practice of constantly studying in order to be as well-versed as possible on issues like healthcare, immigration and the armed services" were all very demanding, according to Mallin.
The fellowships allow student journalists to refine their skills and learn new ones, some that they'll use for the rest of their lives.
Freelancer Andrea Gonzales, 2016 fellow, quit her job at WJLA-TV in the fall of 2017 when her liver began failing. She decided to document her journey in a film. She's tapping into her Washington experience to help. "The fellowship exposed me to producers making longer-form pieces, so I was able to witness their workflow and how they were able to manage mass amounts of content when putting together a story," she says.
Teri Finneman, 2009 fellow, hadn't worked in TV news before starting her fellowship. As a newspaper reporter, she says she wanted to gain multimedia experience and broaden her skills. "The fellowship really helped me redefine myself and be competitive in the digital age," she says.
For others, the Kaplan fellowship provided a launch pad to other top news organizations or roles.
"The fellowship has prepared Mizzou alumni for careers at The New York Times, Bloomberg News and top news outlets around the country," says Mike McKean, Missouri School of Journalism faculty coordinator for the Kaplan program. "Others have gone on to careers as communications specialists, technologists and teachers. They all have one thing in common: the rare opportunity to work alongside the best and brightest as David Kaplan Fellows."
Expanding the Impact of the Kaplan Program
In addition to the annual named fellowship, the Kaplan Fund is now making it possible for more Missouri Journalism students to share and refine their skills at the network. ABC News is partnering with the Donald W. Reynolds Journalism Institute each spring and fall to support an RJI Innovation Fellow in the Washington Bureau. The students work at least 30 hours per week on new storytelling techniques and business strategies.
Soo Rin Kim, the spring 2018 Innovation Fellow, was recently hired by ABC News. She and 2018 Kaplan Fellow Allison Pecorin are both assigned to a special investigative team focusing on Russian interference in the 2016 U.S. elections. Convergence journalism senior Meg Cunningham will serve as the next RJI Innovation Fellow at ABC News this fall.
The First 25 Years of the David Kaplan Memorial Fellowship
2018: Allison Pecorin, Investigative Team Desk Assistant at ABC News in Washington, D.C.
2017: Riley Beggin, Capitol Watchdog Reporter at Bridge Magazine in Lansing, Michigan
2016: Andrea Gonzales, Freelance Journalist in Detroit
2015:

Stephanie Ebbs, Political Reporter at ABC News in Washington, D.C.
A.J. Feather, Software Development Intern at Max2 Inc. in New York

2014: Alex Mallin, White House Reporter/Producer at ABC News in Washington, D.C.
2013: Mary McGuire, Reporter at WCCO-TV in Minneapolis
2012: Brian Johnson, Reporter/Multimedia Journalist at KMBC-TV in Kansas City, Missouri
2011: Nick Gass, Communications and Marketing Specialist at Koch Companies Public Sector in Washington, D.C.
2010: Boris Korby, FX and Rates Team Leader at Bloomberg News in New York
2009: Teri Finneman, Assistant Professor at the University of Kansas' William Allen White School of Journalism and Communication
2008: Melissa Chee, Associate Marketing Manager at Providence Health and Services in Portland, Oregon
2007: Jia Zhou, Associate Director of Platform Display, Essence Global in Westport, Connecticut
2006: Theresa Cook, Freelance Journalist in Dhahran, Saudi Arabia
2005: Ross Todd, San Francisco Bureau Chief at The Recorder/Law.com, San Francisco
2004: Christina Caron, Reporter at The New York Times
2003: Sara Lane, Coordinator of Career Services at North Carolina State University's College of Agriculture and Life Sciences
2002: Trin Zhuo, Head of Product Development at CEB, now Gartner in Washington, D.C.
2001: Farrah Fite, Media Relations Director at The Missouri Bar in Jefferson City
2000: Caroline Noel Cooper, Communications and Marketing Specialist at Fannie Mae in Washington, D.C.
1999: Susan Batt, Investigative and Special Projects producer at WTHR-TV in Indianapolis
1998: Luana Kelly Slaughter, stay-at-home mom in Atlanta
1997: Rich Kurz, News Director of KOIN-TV in Portland, Oregon
1996: Karl Mattson, Senior Vice President of Growth at Fillr in San Francisco
1995: Sam Templeton, Global Communications Manager at Russell Investments in Seattle
1994: Allysa Adams, Executive Producer at Arizona PBS in Phoenix
Updated: November 4, 2020
Related Stories
Expand All
Collapse All
---