Two Missouri School of Journalism students selected for prestigious Kaplan Fellowship
COLUMBIA, Mo. (Oct. 25, 2022) — Ella McCarthy and Leah Vredenbregt, seniors at the Missouri School of Journalism, have been named the 30th and 31st David Kaplan Memorial Fellows. McCarthy and Vredenbregt will work at the ABC News Washington Bureau in Washington, D.C., in the spring.
The announcement marks only the second time in the 30-year history of the fellowship that two students have been selected. Each will receive a $10,000 stipend and a full-time, paid position for the duration of the spring 2023 semester.
"Ella and Leah brought such unique talents and perspectives that the committee couldn't choose between them," said Professor Amy Simons. "I have no doubt they'll fit right in at ABC, where the focus is on nuanced reporting that connects people with issues that affect their daily lives."
The fellows will rotate through a variety of roles at ABC News; past fellows have worked with shows including This Week with George Stephanopoulos and Good Morning America, assisted ABC reporters with breaking news in the field and written digital stories.
"We are thrilled to welcome two Kaplan fellows to the Washington Bureau in 2023," said Audrey Taylor, director of bureau planning and strategy at ABC News, and Amy Thomas, manager of bureau affairs at the ABC News Washington Bureau, in a joint statement. "Leah and Ella's commitment to journalism and storytelling will bring energy to our newsroom."
Meet the Kaplan Fellows
Currently an assistant city editor at the Columbia Missourian, McCarthy interned as a reporter at the Kansas City Star and the Jefferson City News Tribune this year. Now, she will cap off her School of Journalism career working at the nation's capital.
"I'm thrilled," McCarthy said. "I think this a great opportunity to work with all the teams at ABC News and soak up as much as I possibly can from some of the best in the industry."
Much like Monica Dunn, last year's Kaplan Fellow, McCarthy made the fellowship a goal early on.
"From the time I first came to the J-School, I always wanted to spend a semester reporting in D.C. if I could, so this just worked out perfectly," she added. "My goal is to stay in D.C. and report on national politics. This is the perfect opportunity to get that experience."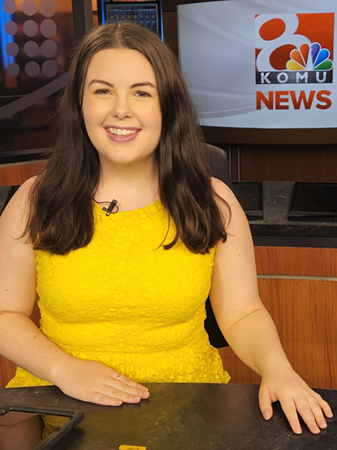 In fact, Vredenbregt named Dunn as one of her mentors at the School, reflecting the collaborative approach that defines the School and its students, faculty and staff. Vredenbregt's most important mentor in journalism, however, has always been her father, a reporter at the Wisconsin State Journal who would sometimes bring her along as he covered everything from small businesses to political protests.
"The one I remember most was the Act 10 protest in 2011, when 100,000 people flooded downtown Madison to protest against Scott Walker," she recalled. "Teachers went on strike, so I didn't have school and there was absolutely zero childcare available. My dad said, 'well, you're going downtown with me today.' It was a really cool experience, and it was something that left a sort of imprint in my mind. That was one of my really formative moments of, 'I really like this.'"
Adding an element of serendipity to an already-exceptional dual fellowship, McCarthy and Vredenbregt are no strangers; they spent their freshman years in the same residence hall, and in applying for the same fellowship, the dynamic was more mutual respect than rivalry.
"We were both really happy to know the other was a finalist, and if Ella had been the only fellow, I would have been so happy for her," Vredenbregt said. "But this was the best-case scenario."
About the David Kaplan Fellowship
The David Kaplan Fellowship honors the memory of David Kaplan, who was a producer for ABC's Sam Donaldson. Kaplan was killed while on assignment for ABC News in 1992 in Sarajevo, Bosnia. Donaldson, a 40-year veteran reporter, correspondent and anchor for ABC News, created the program with funds that he and his colleagues donated to honor Kaplan.
The Missouri School of Journalism was chosen to award the fellowship due to its renowned reputation for hands-on training of both reporters and producers.
Updated: October 25, 2022
Related Stories
Expand All
Collapse All
---