Broadcast Senior Andrea Gonzales Awarded $10,000 Kaplan Fellowship
She Will Spend the Spring Semester at the ABC News Washington Bureau
By Kiara Ealy
Columbia, Mo. (Dec. 4, 2015) — Andrea Gonzales, a broadcast journalism senior, will head to Washington, D.C., in the spring as the Missouri School of Journalism's David Kaplan Memorial Fellow. Students selected for the program spend the semester working behind the scenes at the ABC News Washington Bureau. Gonzales will receive a $10,000 stipend as part of her fellowship.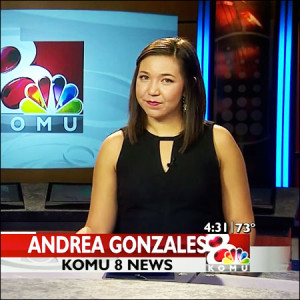 Gonzales has demonstrated her passion for investigative and political reporting by being involved in the School of Journalism since her freshman year. As a reporter for KOMU-TV, she has covered presidential candidates' visits, Senate Interim Committee meetings and potential misconduct by lawmakers. KOMU is the only university-owned commercial TV station in the United States that uses its newsroom as a learning laboratory for students.
Gonzales has also reported at KBIA-FM and Investigative Reporters and Editors' (IRE). During the spring 2015 semester, she was in Washington as an investigative researcher for Scripps National Bureau. There, she assisted in producing a national investigative sweeps story and shadowed interviews of high-ranking officials. In the summer of 2014, Gonzales interned at WXYZ-TV in her hometown of Detroit.
From an early age, Gonzales knew she wanted to work somehow in investigative reporting.
"Growing up, I watched people like Kwame Kilpatrick use their power for self-promotion play out on the television," Gonzales said. "This sparked my interest in covering both corrupt and upstanding politicians." Kilpatrick was a former Michigan state representative and Democratic mayor of Detroit. He resigned as mayor after being convicted on felony counts, including perjury and obstruction of justice.
Associate Professor Mike McKean said Gonzales stood out as a good candidate for what ABC News was wanting at its Washington bureau. McKean headed the fellowship selection committee.
"She had some knowledge about working in Washington, what the issues are, and how that whole process works," McKean said. "She's very enthusiastic about the ABC News Washington Bureau and has a good understanding about what that might be like."
Since its inception 23 years ago, the David Kaplan Memorial Fellowship has provided a generous stipend for Missouri School of Journalism students working at the Bureau. It was started by former ABC News White House correspondent Sam Donaldson to honor his producer, David Kaplan, who was killed in Sarajevo, Bosnia.
The Missouri School of Journalism was chosen to award the fellowship due to its renowned reputation for hands-on training of both reporters and producers.
Sam Donaldson "chose Missouri because his wife was a Missouri School of Journalism graduate and knew about our program and knew that we were one of the few places in the country that actually trained students to be newscast producers as well as field producers," McKean said.
Graduate students or undergraduate seniors, regardless of School of Journalism focus, are selected for the fellowship based on a strong interest in government and public policy reporting. Students initially spend their time at the Washington Bureau rotating through the major units, such as network affiliates, the Justice Department bureau, or at one of the network's TV programs. From there, program participants can specialize in a desired area of interest.
"They could be doing original work on ABCnews.com. It could be going out and covering congressional hearings and then feeding that content to the correspondents so they can put their packages together," McKean said. "There's a lot of different things they can do once they get sort of a flavor of the Bureau."
Gonzales will join the ranks of former fellows who have gone on to successful careers. Some of them include:
Alex Mallin, BJ '14
Digital journalist, ABC News Washington Bureau
Mary McGuire, MA '13
Multimedia journalist at WFLA News Channel 8 in Tampa, Florida
Nick Gass, BJ '12
Reporter at POLITICO in Washington, D.C.
Boris Korby, MA '10
Reporter at Bloomberg News in New York
Melissa Chee, MA '08
Marketing specialist at Providence Health & Services
Jia Zhou, MA '07
Analytics lead for Rocket Fuel in New York
Eventually, Gonzales would like to be a producer at a network. For now, she's focusing her efforts on all the possibilities of what the spring semester has in store.
"I'd like to thank my family for all of the support and encouragement," Gonzales said. "The faculty members at KOMU-TV have taught me so much, while making a newsroom feel like a home. And, I give a big thank you to the Missouri School of Journalism for this wonderful opportunity."
Updated: September 14, 2020
Related Stories
Expand All
Collapse All
---