Broadcast Lab Dedicated in Memory of Ron Naeger
Columbia, Mo. (March 15, 2005) — "Not enough words can ever be said of a person like Ron," said John Merrill, professor emeritus of journalism. "He was one of the most remarkable young faculty members that I've ever met."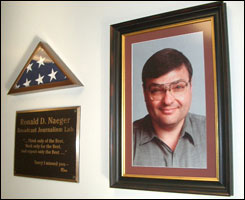 Journalism faculty, staff and students recently honored Ron Naeger by dedicating the Gannett Hall broadcast laboratory in his name. Naeger, a former assistant professor of broadcast, died unexpectedly of heart disease on March 9, 1999, at the age of 48.
A portrait of Naeger, a plaque and an American flag now hang at the entrance of the lab that bears his name. Family members, friends and colleagues shared personal memories of him during an unveiling ceremony.
"Ron Naeger was a giant in many ways here at the J-School," said Greeley Kyle, associate professor. "Ron left a legacy as a lifetime learner. I'm learning to be more like Ron."
Naeger began his television career in the U.S. Army as an engineer for the Armed Forces Radio and Television Service in 1970. He then earned a bachelor's degree in radio-TV and film at the University of Missouri while working as an engineer for KCBJ-TV, now KMIZ-TV. Early in 1980, Ron joined the Missouri School of Journalism, first as the manager of the School's television editing lab. He became a faculty member in 1985, pioneering the School's "Professional Track" for faculty. Ron earned his master's degree in communication in 1988 from MU. In addition to handling the technical needs of the J-School and its rapidly growing broadcast news sequence, Ron specialized in teaching video editing, camera techniques, lighting and other production topics.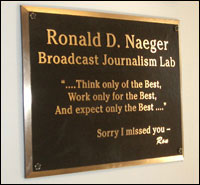 Ron was in the vanguard of converting the Broadcast News Department to digital audio and video editing as well as journalistic applications of multimedia technology. His work in these areas took him to South Africa, Panama, Austria, Germany, Macedonia and the Middle East.
In addition, Ron was involved with military communications, serving part-time as a Chief Warrant Officer in the television section of the Missouri Army National Guard's Public Affairs Office.
Greatly valued as an innovator, an educator and a colleague, Ron left a legacy at the Missouri School of Journalism. Working with two grateful former students, the School established the Ron Naeger Memorial Scholarship for broadcast students who come from a rural area, and embody Ron's characteristic of "going beyond the call of duty."
Updated: April 2, 2020
Related Stories
Expand All
Collapse All
---