Broadcast Professor Emeritus Named 2008 Faculty Retiree of the Year
By the Mizzou Weekly Staff
Columbia, Mo. (May 30, 2008) — As the lunch clatter died down April 23 in the cavernous Hearnes Center field house and the award ceremony began, many of the more than 600 retirees in attendance knew firsthand that the award's title — the Retiree of the Year Award — was just a touch misleading. Many retirees are just as busy as they were when they were still MU faculty and staff employees.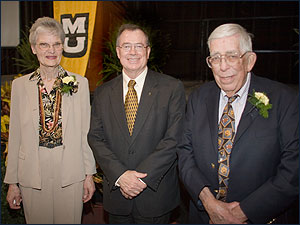 Each year at the chancellor's retiree luncheon, a former faculty member and a former staff member are honored for their accomplishments during retirement. The 2008 recipients are Rod Gelatt, a professor emeritus of broadcast journalism since 1992, and Georgia Morehouse, who retired from the Division of Animal Sciences in 1984.
Jo Behymer, president of the MU Retirees Association and a retired education faculty member and assistant provost, talked about some of the countless contributions that MU retirees make to the university and to the Columbia community: They continue to teach courses on campus, and they volunteer through the provost's office to mentor undergraduates.
"You bring wisdom, perspective and expertise to our university," Chancellor Brady Deaton told those in attendance. "We could not continue to thrive in these challenging times without your help."
Deaton said that Gelatt, the faculty retiree of the year, "has become as outstanding in his many accomplishments in retirement as he was in nearly 40 years as a full-time faculty member at the University of Missouri."
Thousands of mid-Missourians are familiar with Gelatt's intelligence, wit and melodious voice from his long stint as the moderator of KBIA-FM's weekly radio program, "Views of the News."
Those who know him call Gelatt a tireless ambassador for the community and the university. He has been president of the MU Retirees Association. He volunteers weekly at the Reynolds Alumni Center to direct visitors and welcome campus visitors. He also greets visitors at the city's tourist information center and is a docent for the Boone County Historical Society.
Deaton described Morehouse, the staff retiree of the year, as a "career volunteer who believes that doing for others is one of the most fulfilling and important parts of living." Her volunteer accomplishments are as extraordinary as her enthusiasm, energy and organization. Friends say she has worked tirelessly on behalf of the disadvantaged and the arts community, and has also encouraged physical fitness in both young people and seniors.
Morehouse is active in the Trinity Presbyterian Church, where she has taught adult Sunday school classes, served as worship leader and has presented children's sermons. She has been secretary, president-elect and president of the Missouri Symphony Society board, and has served on the organizing committee for the Missouri State Senior Games since it began.
Praise for Rod Gelatt
"Professor Gelatt is one of those fellows that you can always call on when you want to educate the public. He is perceived by the community as above politics, and what he says, he believes in."

Bill Watkins, Columbia City Manager

"He may have taught a student 20 years ago, but he can recall specifics about that student today. Students remember him, too. Rod obviously makes a life-long impression."
"Though many people think of themselves as active retirees, not many take on leadership with the enthusiasm, professionalism, excellence and endurance as Professor Gelatt has shown. For those of us who have yet to retire, Professor Gelatt is showing by example that he deserves the award of MU Retiree of the Year."
"Rod is an inspiring example of how someone at the conclusion of a formal professional career can remain engaged with the university and community."

Mary Paulsell, Columbia Entertainment Company Board President Emerita

"Rod Gelatt is in great demand wherever decisive action, accomplished with humor or a velvet touch, is required."

Lucille D. Salerno, Director, Osher Lifelong Learning Institute at MU

"When I think about retiring in a few years, I think of Rod Gelatt. He is the quintessential role model for active, involved retirement. Retirement gives us the gift of time. How we use it is up to us. Rod has used his time to give so much back to his community."

Lorah Steiner, Executive Director, City of Columbia Convention and Visitors Bureau
Updated: April 28, 2020
Related Stories
Expand All
Collapse All
---