Strategic Communication Professor James Sterling Named Faculty Emeritus
Columbia, Mo. (Nov. 29, 2017) — Strategic communication professor James C. Sterling, BJ '65, this fall was named professor emeritus for his service and dedication to the Missouri School of Journalism. This honor is bestowed on University of Missouri faculty members based on their meritorious service to their department and the university over a long period of time.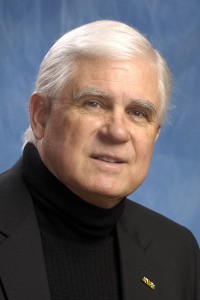 Sterling has more than 30 years of professional experience in the community newspaper business. Before joining the MU faculty, he owned Sterling Media where he published multiple papers in southwest Missouri. When he came back to work at his alma mater in 2000, Sterling was welcomed into strategic communication.
"Strategic communication has always been my true home at the School of Journalism," said Sterling. "I've never regretted a moment of working there."
His experience and passion for the industry has inspired countless students and faculty throughout his time at MU and he has played an important role in advancing the School of Journalism. Sterling taught Media Sales with Brad Best, a course he revived in hopes it would resonate with students in the same way it did with him during his undergraduate days at Mizzou. He also contributed to creating a class that taught sports journalism students learn the basics of multimedia sports journalism.
"Advertising is a beautiful word and I've always been enamored by the way it looks and sounds," said Sterling. "I liked – loved – advertising as a career, a business, and a way to sell products, ideas and personalities."
In addition to his contributions in the classroom, Sterling is a former member of the Board of Curators, the governing body of the University of Missouri, and a past president of the Missouri Press Association. In 1999, he was inducted into the Missouri Newspaper Hall of Fame. In the same year, Sterling also received the Missouri Honor Medal for Distinguished Service in Journalism.
"I came to the Journalism School after 35 years in the community newspaper business and a year doing public relations," said Sterling. "This was a dream job for me. Being here turned my life in a positive direction as a student, and it turned it in a positive and productive way again as a faculty member the past 17 years. I am proud to have been a professor at the Missouri School of Journalism."
Updated: October 26, 2020
Related Stories
Expand All
Collapse All
---