Professor Emeritus John C. Merrill Honored in New Book for His Six Decades of Service to Journalism Education
Special Presentation to Be Made at Upcoming Convention in Washington, D.C.
Natchitoches, La. (July 16, 2007) — One of the leading scholars in journalism over the past 60 years has been honored in a new book published by the Northwestern State University Press.
Freedom Fighter, A Festschrift Honoring John C. Merrill on His Six Decades of Service to Journalism Education, honors Merrill, a professor emeritus at the Missouri School of Journalism. For the past two years, he served as the Erbon W. and Marie Wise Endowed Chair of Journalism at NSU. The book was edited by Donald W. Hatley, dean of liberal arts, and Paula F. Furr, head of the department of journalism at Northwestern.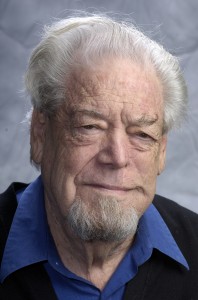 Merrill's many contributions to journalism will be recognized at a special presentation of the book at the Missouri-Iowa social during the Association for Education in Journalism and Mass Communication convention in Washington, D.C. The reception will be from 8:30-10 p.m., with the presentation to begin at 9 p.m., on Friday, Aug. 10, at the Renaissance Washington D.C. Hotel, 999 9th St., N.W.
Former students of Merrill, such as NSU Vice President for External Affairs Jerry Pierce and Sabine (La.) Index Editor/Publisher Robert Gentry, along with colleagues and journalism scholars from around the world, contributed essays discussing Merrill's impact on their lives and the field of journalism.
"Scholars in the field of journalism, nationally and internationally, would be hard-pressed to find anybody who has influenced American journalism thought as much as John C. Merrill during his 60 years of writing and teaching," Hatley said. "So, part of the reason for doing the Festschrift was to offer some of the best thinkers in American journalism an opportunity to assess Dr. Merrill's impact. Almost single-handedly, Dr. Merrill, for over 60 years, focused attention of American and international journalism scholars on global journalism, the ethics of journalism and the philosophy of journalism."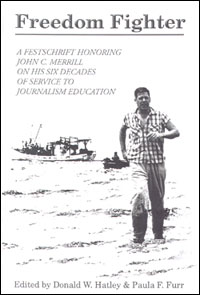 According to Hatley, one of the most important contributions of the book was to let many of those who were influenced by Merrill find out something about his career during the 10 years before he hit the national scene with the first serious book about global journalism. Missouri Professors Emeriti Don Ranly and Byron Scott and the Houston Harte Chair in Journalism Judy Bolch are among the many book contributors.
Merrill was the first person to hold the Wise Endowed Chair of Journalism, created by a $400,000 gift from Major General Erbon W. Wise and his wife, Marie, both NSU graduates and newspaper publishers. The gift was matched with $600,000 from the Louisiana Board of Regents Support Fund to create NSU's first $1 million endowment.
"The book to honor Dr. Merrill was a tangible way for us to thank him for his service to journalism education and to NSU," Furr said. "We are indebted to Major General and Mrs. Wise for funding our endowed chair in journalism, which allowed us to bring in such a distinguished educator as Dr. Merrill." We are proud of the book and proud to have had Dr. Merrill be NSU's first recipient of the Wise Endowed Chair in Journalism."
Merrill taught at various universities in the United States and abroad. He previously taught at Northwestern for 11 years in the 1950s and 60s while also handling college publicity and serving as adviser for the student newspaper, the Current Sauce, and the student yearbook, the Potpourri. Merrill was also a faculty member at Texas A&M, the University of Maryland, the University of Virginia, California State-Long Beach, the University of North Carolina and Missouri.
He taught internationally in Singapore, Taiwan, South Korea and Egypt and has lectured and held workshops in at least 70 other countries. He is the author of 30 books and more than 100 journal articles.
Esther Thorson, acting dean at the Missouri School of Journalism, said that Merrill has always been greatly appreciated for his scholarly contributions.
"He is an inspiration to all of us, and his dedication is unsurpassed," Thorson said.
Merrill received the coveted Missouri Honor Medal for Distinguished Service in Journalism in 1996. It is one of the highest awards in the industry.
For more information on the book, contact the NSU Department of Journalism at 318-357-4425.
Updated: April 20, 2020
Related Stories
Expand All
Collapse All
---