Journalism Scholar, Former MU Professor John Merrill Dies at 88
By Zachary Matson
Columbia Missourian
Columbia, Mo. (Sept. 21, 2012) — The journalism world lost a giant.
John Calhoun Merrill died Thursday, Sept. 20, 2012, in Birmingham, Ala., surrounded by his wife, Dorothy Merrill, his daughter Judy and his granddaughter Erin. He was 88.
Becky Schroeder of Columbia, a longtime friend, said she received an email Thursday afternoon from Dorothy Merrill that Dr. Merrill died at 9 a.m. Thursday. The email also said the family would be having a small service at their home in Birmingham at 3 p.m. Saturday.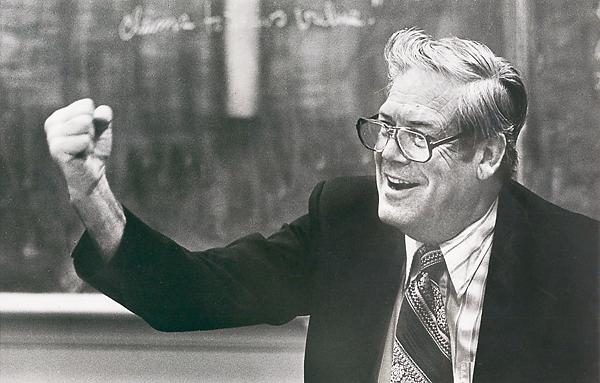 Through his study and advocacy of a free press, Dr. Merrill left a legacy in journalism ethics and philosophy as well as international media systems. He authored or edited more than 30 scholarly books and numerous articles during his life of scholarship and teaching that touched students, colleagues and friends throughout the world.
Members of the journalism academy expressed their condolences and remembered the importance of his work.
Don Ranly, Missouri School of Journalism professor emeritus, of Columbia said his colleague had a substantial impact on journalism and on all of the students that he taught and challenged. "His books are on the shelves of other scholars and practitioners across the country and probably around the world," Ranly said.
Peter Gade, professor of journalism at the University of Oklahoma, was a student, colleague and friend of Merrill's.
"He was a fiercely independent man, and he feared a journalism that was not fiercely independent," Gade said. "He was a man of great conviction."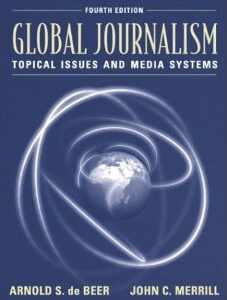 Gade said he believes Dr. Merrill's book "The Imperative of Freedom" is as essential to understanding journalism freedom as John Stuart Mill's "On Liberty" is to understanding democratic and philosophical freedom. "It is the most articulate defense of press freedom that can be found anywhere," Gade said.
Dr. Merrill was born Jan. 9, 1924, in Eden, Miss. He served in the Navy from 1942 to 1946 in the Atlantic and the Pacific oceans.
On Thursday, Dorothy Merrill said she and Dr. Merrill were married "for 64 years and 15 days." They met at Delta State College in Cleveland, Miss., where Dr. Merrill graduated in 1949. The two moved to Baton Rouge, La., and pursued master's degrees at Louisiana State University, she in speech and he in journalism. She said Dr. Merrill's first teaching job was at Northwestern State College in Natchitoches, La., from 1951 to 1962, and he completed his doctoral study at the University of Iowa in 1961.
The two moved to Columbia in 1964 so he could teach at the Missouri School of Journalism and lived here until 1979. After a brief stint as director of the School of Journalism at LSU, Dr. Merrill returned to teaching at LSU before returning to Columbia in the early 1990s. He resumed teaching graduate courses at MU and researched and wrote numerous books.
Throughout his life, Dr. Merrill taught workshops and gave lectures in dozens of countries around the globe, from Kenya, India and Vietnam to Germany, Spain and Italy, his wife said.
As a professor, Dr. Merrill was remembered for challenging students in class and for always leaving his office door open and speaking with anyone who cared to drop by.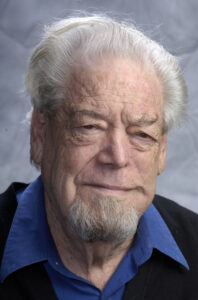 "The best thing about his teaching was that he was relentless about students' ideas," George Kennedy, professor emeritus at the Missouri School of Journalism said. "He would make you think about and support the logic of the argument you were making."
Kennedy took courses with Dr. Merrill in the 1970s and asked him to be his doctoral adviser but was politely declined.
"He didn't suffer from a lack of self-confidence," Kennedy said. "He congenitally resisted authority."
Ranly said his proudest and saddest memory of Dr. Merrill was when he was asked to co-author a book but couldn't keep up. "He practically had all of his chapters complete before I had my first one," Ranly said.
"If you really understood what was most charming was his sense of humor, and it got him in real trouble sometimes," Ranly said. "He had a hearty laugh and enjoyed laughing. Down deep he was really a good man."
Gade remembered that in the middle of discussion Dr. Merrill could pull a book idea almost out of thin air. "He would have an idea and a title and six chapters outlined in the first three minutes," Gade said.
As a master's student at LSU, Gade studied under Dr. Merrill and followed him to Columbia for a doctoral program. "I had better offers financially, but I chose Missouri because of John Merrill," Gade said.
Mary Lou Spradling remembered Dr. Merrill as a man of faith who regularly attended services at the First Baptist Church in Columbia.
"There goes my favorite curmudgeon," she said. "The world is going to be a sadder place now that John is not here."
Dr. Merrill is survived by his wife, Dorothy Merrill; five children, Charles Jefferson, Judy Merrill Vaporean, Jon Guyton, Linda and Debbie Kennedy; nine grandchildren; and three great-grandchildren, Dorothy Merrill said.
Condolences can be sent to 200 One Nineteen Boulevard, Apartment 1105, Birmingham, AL 35242.
Supervising editor is John Schneller.
Updated: June 17, 2020
Related Stories
Expand All
Collapse All
---