Associate Professor Emeritus Clyde Bentley Completes Fulbright Specialist Fellowship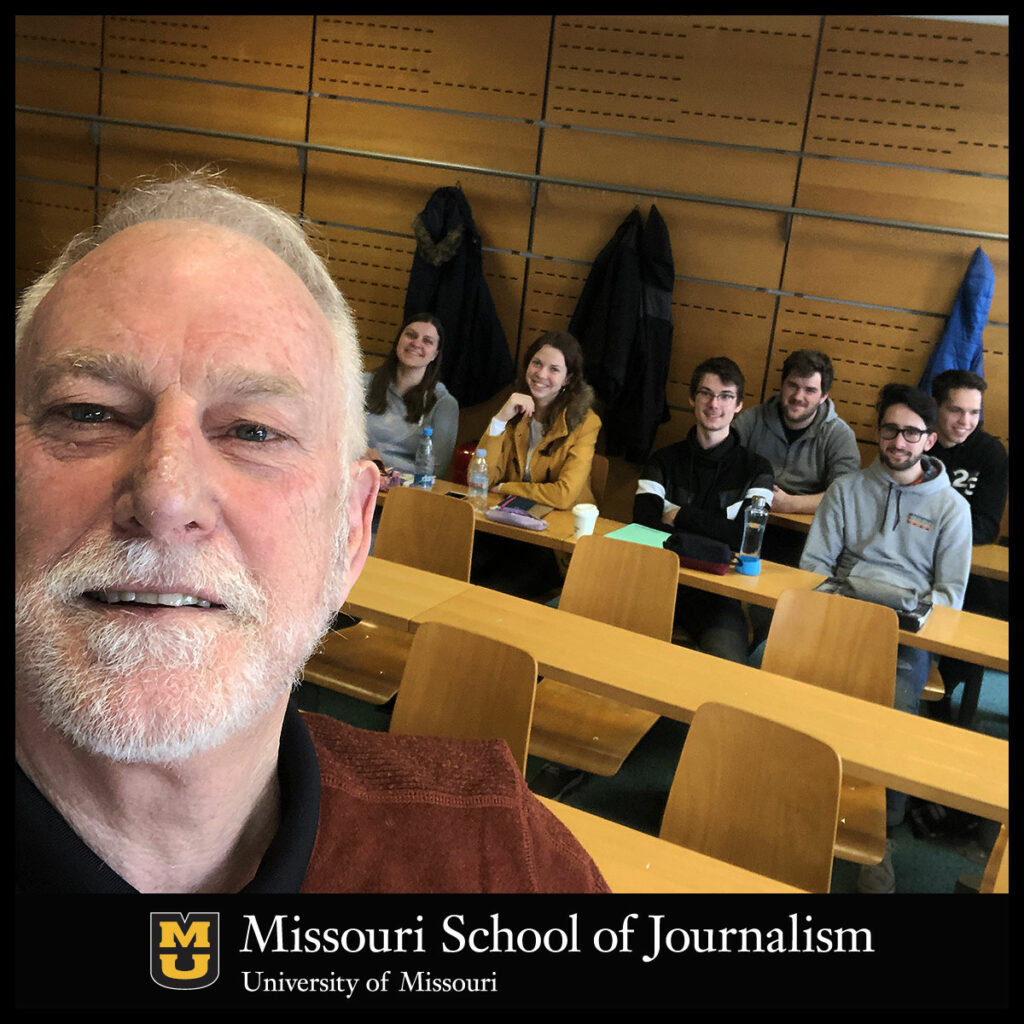 Emeritus Associate Professor Clyde Bentley with some of his students at the University of Ljubljana in Ljubljana, Slovenia.
Six-Week Program Had Bentley Teaching Journalism Students at University of Ljubljana in Slovenia
Columbia, Mo. (April 24, 2019) — Missouri School of Journalism Emeritus Associate Professor Clyde Bentley recently completed a six-week Fulbright Specialist fellowship at the University of Ljubljana in Slovenia.
Bentley taught both undergraduate and graduate students in the University of Ljubljana's journalism program and met with working journalists in Slovenia. Bentley also connected several Slovenia professors with colleagues at the University of Missouri.
"This was a two-way educational experience," Bentley said. "I shared many of the techniques and media knowledge the Missouri School of Journalism is known for and I learned from them how both journalists and audiences benefit from a multi-language, multi-culture, but very interconnected Europe."
Slovenia is part of the former Yugoslavia, tucked between the Adriatic Sea, Austria and Croatia.
"Slovenia is one of the prettiest countries in Europe, with both the Alps and the Adriatic Sea within a two-hour drive of Ljubljana," Bentley said. "But it is also home to a highly-educated and highly-inventive people who are fluent in English and very attuned to global news."
Though small, Slovenia has maintained a unique language and culture for more than 1,000 years. The University of Ljubljana, in the nation's capital, is one of the largest universities in Europe with more than 53,000 students.
"One of the delights of the Fulbright program is that you get to experience the reach it has into the academic world," Bentley said. While there, Bentley attended a book release event for a well-known newspaper columnist and editor, Dr. Sonja Merljak Zdovc, who also happens to be a 2001-2002 Mizzou Fulbright scholar. "Meeting her was clear evidence that both knowledge and peace grow when you let scholars share their lives in person."
The Fulbright Program was establish after World War II by Sen. William J. Fulbright to encourage peace with other nations by exchanging college students and professors. Since 1946, it has facilitated the exchange of more than 380,000 students and professors in 160 countries. It works in conjunction with the Bureau of Educational and Cultural Affairs of the U.S. Department of State.
Updated: November 6, 2020
Related Stories
Expand All
Collapse All
---