Study Finds MyMissourian, MU's Citizen Journalism Project, Is Paying Off
By Shannon Burke
Columbia, Mo. (Aug. 22, 2005) — Some of the first videos, pictures and descriptions of the destruction that followed the explosions on London's mass transit system on July 7 were not from the lenses or pens of professional journalists. Rather, witnesses with camera phones and online blogs were the main sources of information following the blasts. A recent study of a unique program at the Missouri School of Journalism shows that this new type of reporting is successfully turning ordinary citizens into working journalists.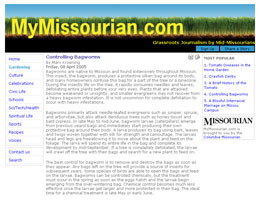 The London bombings are one of the latest examples of how "citizen journalism" is changing the face of how news is covered. Conventional media outlets, such as television stations and newspapers, increasingly are offering opportunities for viewers and readers to submit their own stories, pictures and experiences about major news events, such as the December 2004 tsunami or the recent hurricanes.
Clyde Bentley, associate professor in the School of Journalism, helped launched MyMissourian.com in October 2004. The Web site serves as the citizen journalism outlet of the Columbia Missourian daily newspaper. He recently completed a case study on MyMissourian's successes and failures since its inception.
"Citizen journalism turns the traditional news model on its head," Bentley said. "The citizen is the news gatherer and writer, rather than the source, for a news story. The journalist is a 'shepherd' in the process, helping take the reported news and making sure it is dispensed in a readable format that does not violate standards of decency or libel."
Bentley notes that MyMissourian editors adhere to several rules to determine what is suitable to post; no nudity, profanity, personal attacks or attacks on race, religion, national origin, gender or sexual orientation.
Bentley said the Civic Life section of MyMissourian is the most popular section of the website. People have discussed everything from a proposal to ban smoking in local restaurants to the death of Columbia Police Officer Molly Bowden. The response to Bowden's death in February has been one of the biggest draws to the Web site to date. The success of the Civic Life section taught the editors of MyMissourian an important lesson, Bentley said.
"Readers and potential contributors are not interested in a rehash of events and issues that are already covered by the city's other news media," Bentley said. "Rather, they are interested in issues that go largely ignored on the nightly news."
That interest has contributed to the success of the Spiritual Life section of MyMissourian. Bentley said that since many religious organizations do not receive mainstream media coverage, the Internet has become a natural gathering place for religious groups and individuals. On MyMissourian, people have written about everything from Paganism to Christianity.
Although some sections of the website have not been as successful, Bentley said the MyMissourian experiment is paying off and that readers are hungry for local, people-centered news.
"The aim of citizen journalism is to help strengthen community ties by opening up the process of journalism itself," Bentley said. "The community is one of participation rather than passive readership."
Updated: April 7, 2020
Related Stories
Expand All
Collapse All
---