Class Project Receives Attention from Trade Press
Columbia, Mo. (Dec. 21, 2004) — A class project involving citizen journalism has received attention by the trade press.
Editor and Publisher, The Online Journalism Review, the journalism think tank Poynter Institute and others have written about the MyMissourian project that Clyde Bentley and his media management students launched this semester.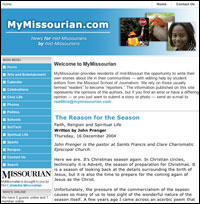 The website of www.MyMissourian.com is a community site similar to a blog that allows citizens to develop content about what is important to them. Contributions have included discussion about accuracy in journalism, information about holiday events and promotion of services available. Unlike most blogs, however, MyMissourian journalists help the writers develop their stories and make them more readable. The site also remains closely affiliated with a traditional daily newspaper, the Columbia Missourian.
Bentley, an associate professor in the advertising and editorial departments, feels that sites like MyMissourian can lead to more readership as it allows for direct feedback, a mechanism for reporters to discover story ideas and a way to promote a paper's civic products.
"MyMissourian represents an important new safety valve for American journalism," Bentley said. "Sites like this allow newspapers to never again say 'no' to their readers. We can publish anything our readers think is important to them. We have no space limitations and very few other restrictions."
MyMissourian, in fact, has just four simple rules for publication: No nudity; no profanity; no personal attacks; and no slights to race, religion, national origin or sexual orientation. The site accepts stories, essays, columns, poems and photos. Submitted material is edited by the MyMissourian site and published in one of 11 categories, ranging from politics to recipes.
Citizen journalism – also called "open source journalism" – is an outgrowth of a movement that started in Korea with OhMyNews. That popular website now has nearly 30,000 citizen reporters. MyMissourian and other American sites have taken a unique spin on the new medium by combining it with the assets of traditional newspapers. Eventually, said Bentley, MyMissourian will have a printed edition.
For information on the citizen journalism project, contact Bentley at bentleycl@missouri.edu.
Updated: April 1, 2020
Related Stories
Expand All
Collapse All
---