Two Missouri School of Journalism Students Win Poynter Institute Summer Fellowships
Columbia, Mo. (Nov. 14, 2007) — The rules were simple: each student had a pencil, a sheet of paper and 20 minutes to design a storyboard for news coverage of the Boston Tea Party. The stakes were high: admission to a six-week fellowship next summer at the Poynter Institute in St. Petersburg, Fla.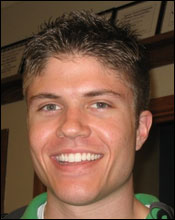 When it was all over, Missouri School of Journalism senior Darla Cameron and graduate student Bryan Wendell had beaten out 30 other college designers to claim two of four winning spots in the Poynter Summer Fellowship for Young Journalists. For both students, the Society for News Design conference in Boston Oct. 11-13 had turned into a professional stepping stone because of the competition.
"I had no intention of even doing (the competition), to be honest," said Wendell, a graduate student on track to finish his two-year program in the design and editing emphasis area next May. "But, it turned out to be pretty cool."
Indeed, the program is valued at $3,500, and its alumni include reporters for The Washington Post, The New York Times, The Miami Herald and The Boston Globe, to name only a few.
While in Florida next summer, Cameron and Wendell will work in four-person teams covering a community beat for the St. Petersburg Times. Each team will include a visual journalist, two reporters and one photographer. In addition, Poynter faculty will teach classes on everything from ethical decision-making to Web production and writing techniques.
Past summer fellows have described the experience as journalism boot camp, finishing school or a graduate degree in six weeks, according to the Poynter website.
"These kids are going to have a great summer," said Joy Mayer, an assistant professor who works as the design editor at the Columbia Missourian, where she oversees the work of Cameron and Wendell. "They create amazing projects together. The job placement rate is high out of the fellowship program."
Poynter is accepting only about 30 students for the program next summer. The projects students created in summer 2007 are available at the Poynter website.
In a perfect world, Cameron would have left Boston with two prizes. She was one of 10 finalists in "The Intern," a design competition that pitted her against the best college designers from across the nation. As the name implies, the winner received an internship at a top newspaper. Unfortunately, she didn't make it into the top five.
On the bright side, Cameron had already won the Poynter fellowship by the time she heard the disappointing news. "I think I'll learn more there (at Poynter) than I would at an internship," she said.
Cameron was the first Missouri School of Journalism student to be a finalist in "The Intern" competition.
"She did very well, and she represented us very well," Mayer said. "She's a Missourian first."
Updated: April 21, 2020
Related Stories
Expand All
Collapse All
---