Brian Storm to Serve as Professional in Residence
Columbia, Mo. (April 9, 2004) — Brian Storm, MA '97, vice president of news, multimedia and assignment services for Corbis, will serve as a Professional in Residence at the Missouri School of Journalism. He will present numerous lectures and information-sharing sessions on the University of Missouri campus on April 15-19.
Storm joined Corbis, the digital media agency owned by Bill Gates, in August of 2002 and is responsible for defining and implementing Corbis' global strategy for the production of news, sports and entertainment photography as well as the packaging and distribution of the company's industry leading historical collection.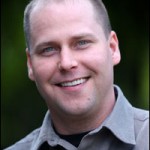 Previously Storm was the director of multimedia at MSNBC.com, a joint venture of Microsoft and NBC News based in Redmond, Washington, where he was responsible for the audio, photography and video elements of the site. He also created The Week in Pictures as a destination that showcases visual journalism and the unique capabilities of interactive media.
Storm received his master's degree in photojournalism from the Missouri School of Journalism where he ran the School's new media lab, taught electronic photojournalism and produced CD-ROMs for the Pictures of the Year competition and the Missouri Photo Workshop.
Storm has presented ideas about the impact of new technology on journalism at dozens of conferences including the National Press Photographers Association's annual conventions and Flying Short Course, The Atlanta Photojournalism Seminar, Visual Edge, and the Stan Kalish Picture Editing Workshop. Storm is the chairperson of the NPPA telecommunications committee and also serves on the association's business practices committee.
About the Professionals-in-Residence Program
The Professionals-in-Residence program brings outstanding alumni to the Missouri School of Journalism to engage with students, faculty and staff. Former Professionals-in-Residence have included: Linda Bell Blue, executive producer for Entertainment Tonight; Linda Eatherton, executive vice president/director of Global Food and Nutrition Practice for Ketchum Public Relations; Jose Azel, photo-journalist and president of Aurora & Quanta Productions; Pam Johnson, Poynter Institute faculty and former executive editor and vice president of the Arizona Republic; Robert Horner, president, NBC News Channel; Jeanne Von Essen of NBC News; and Bryan Burrough, correspondent, Vanity Fair.
Updated: March 13, 2020
Related Stories
Expand All
Collapse All
---