Missouri Photojournalism Students Win Pictures of the Year International Awards
By Lauren Walsh
Master's Student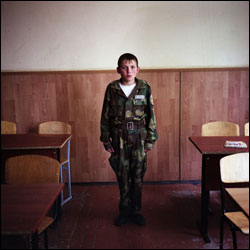 Columbia, Mo. (March 29, 2010) — Four Missouri School of Journalism photojournalism students were among the top winners at the 67th annual Pictures of the Year International (POYi) contest. POYi is considered one of the world's largest and most prestigious photojournalism contests.
POYi awarded Ikuru Kuwajima the Award of Excellence in the Portrait category for the photo "Cossack Cadet."
Joshua A. Bickel, with the Columbia Missourian, won First Place in the Sports Feature category for his photo, "Riding the Wave."
An Award of Excellence for "Boone Life" went to Zachary Siebert and Kyle Spradley of the Columbia Missourian.
This year's judges were 12 highly-respected professionals comprised of photojournalists, visual editor, multimedia producers and documentary photographers. They reviewed more than 41,000 photographs, multimedia pieces, and publication pages reflecting the news events and social issues of 2009.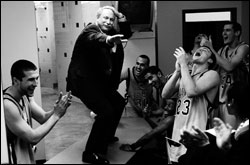 POYi provides Missouri Journalism students with opportunities to learn what benchmarks experts use to determine what are the best photographs in the world. The steep global competition of the contest's entries makes the Missouri Journalism wins even more significant.
The image selection process is a public forum open to everyone, including working professionals, students and faculty. The dialog and decisions of the panel members serve as a worldwide educational resource for professional development and academic teaching tool.
Judging was held in the Fred W. Smith Forum at the Donald W. Reynolds Journalism Institute at the School in February and March. Rick Shaw serves as executive director of POYi. David Rees is chair of the photojournalism emphasis area.
A full list of judges, a detailed judging schedule and the winning photos may be found on the POYi Web site at www.poyi.org.
Updated: May 7, 2020
Related Stories
Expand All
Collapse All
---