Angus McDougall, a Legendary Force in Photojournalism, Dies
Columbia, Mo. (Aug. 21, 2009) — Angus W. "Mac" McDougall, a legendary force in photojournalism, editing and education, died in Columbia on Thursday, Aug. 20. He was 92.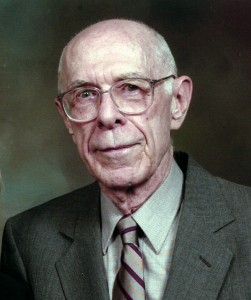 McDougall set standards of excellence in photography, photo editing and photojournalism education. As a Milwaukee Journal photographer, he was an innovator in the use of high-speed strobe technology and in using multiple pictures to tell stories. McDougall tested his theories of visual communication and formed many of his principles of picture editing as associate editor of International Harvester World, a Chicago-based corporate magazine.
McDougall co-authored the definitive picture-editing book "Visual Impact in Print" as well as "Picture Editing and Layout." His other book, "A Photo Journal," is a rich chronicle of his newspaper photography from the 1940s and 1950s. His most recent book, "Pacesetters in Journalism", was published in 2008, a retirement project shared with former student John Dengler, BJ '76.
As professor McDougall taught hundreds of students during his 10 years as head of the Missouri School of Journalism's photojournalism sequence and as director of the Pictures of the Year competition. He pressed his photo students to become adept in all aspects of journalism, especially visual reporting, writing, design and management so they would have the credibility to cause change in newsroom thinking. Many of his students moved into leadership roles in the nation's metropolitan newspapers. McDougall's emphasis on meaningful photography in lockstep with supportive words and presented with impact is his legacy.
Born in Milwaukee, Wis., to Archibald and Meta McDougall, he grew up in Waukesha, Wis., where he attended high school and Carroll College before marrying his high school sweetheart, Betty. With a master's degree in English, McDougall taught high school for two years before pursuing his dream to work as a photographer. After a year's course in New York, he showed his portfolio to Stan Kalish at the Milwaukee Journal, looking for a critique. McDougall was hired on the spot. The Journal was a center of synergy between technology and creating a new visual content for newspapers. McDougall's experiments with the just-invented electronic strobes were published in the newspaper and many national photography magazines.
McDougall was named Magazine Photographer of the Year in 1955 in the Pictures of the Year (POY) competition, and he left the Journal to join International Harvester in Chicago as a photographer and photo editor. He brought a strong editorial approach to the corporate environment. With his contemporary from IH, Gerald Hurley, they wrote "Visual Impact in Print," which after more than 30 years is still considered a primary reference work for picture editing and use. He was named Picture Editor of the Year in the 1965 Pictures of the Year competition. McDougall served on the prestigious faculty of the Missouri Photo Workshop for at least 20 workshops, guiding students in the principles of documentary photography as applied to everyday life in small Missouri towns.
When Clifton Edom retired from teaching photojournalism at the School, he handed the reins of the program to McDougall. From 1972 to 1982 McDougall preached a comprehensive approach to his students, believing that they had to be adept at all aspects of journalism: visual reporting, writing, design and management. He encouraged his best students to go to small newspapers where they could immediately exert tremendous influence. When the work of these young picture editors was rewarded in contest after contest, they moved up and were hired into the nation's metropolitan newspapers.
Former student and current faculty member Rita Reed, MA '84, says of McDougall, "He possessed a great passion for photojournalism and commitment to excellence that when combined with his ability and eagerness to connect deeply with his students, made learning infectious and exciting. He is the greatest evangelist for photojournalism I have ever met."
McDougall was professor emeritus from the University of Missouri and received numerous accolades during his career, including the National Press Photographers Association's Joseph A. Sprague Memorial Award and the Robert F. Garland Educator Award as well as the Missouri Honor Medal for Distinguished Service in Journalism. He also was inducted into the Missouri Photojournalism Hall of Fame.
McDougall is survived by his daughter Bonnie and her husband John Latimer of Elgin, Ill., and son Angus Craig McDougall and his wife, Kathleen, of Louisville, Ky., four grandchildren and five great grandchildren. Another daughter, Lorna, died earlier. A private service was held today. His wife and life partner of 70 years, Betty, died in February of this year.
In 2008 Mac and Betty made substantial gift to the Missouri School of Journalism that established The Angus and Betty McDougall Center for Photojournalism Studies. Their desire was to preserve the work of photojournalists for research and educational use.
The family requests that memorials be made to the McDougall Center at the Missouri School of Journalism. Checks may be made payable to the McDougall Center, School of Journalism, 103 Neff Hall, Columbia, MO 65211. For other methods of contributing, contacting the School's Office of Development, 573-882-0334.
Updated: May 5, 2020
Related Stories
Expand All
Collapse All
---