67th POYi Launches Three Weeks of Judging
POYi Is the Oldest and Most Prestigious Photojournalism Program in the World
Columbia, Mo. (Feb. 12, 2010) — Pictures of the Year International begins its 67th annual competition of more than 41,000 photographs, multimedia pieces, and publication pages reflecting the news events and social issues of 2009. Judging begins on Sunday, Feb. 14, on the campus of the University of Missouri and continues through March 5. A program of the Donald W. Reynolds Journalism Institute (RJI) at the Missouri School of Journalism, this year's RJI will host the review process in the Fred W. Smith Forum.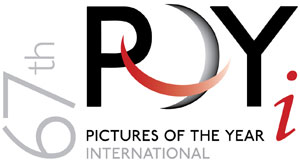 Serving on this year's jury are 12 highly respected professionals comprised of photojournalists, visual editor, multimedia producers, and documentary photographers. They come from Latin America, the Pacific Northwest, the Middle East, and the Gulf Coast to share their time and wisdom. A full list of the judges may be found on the POYi Web site at www.poyi.org.
The image selection process is a public forum open to everyone – working professionals, students, and faculty. The dialog and decisions of the panel members serve as a worldwide educational resource for professional development and academic teaching tool. POYi is pleased to partner with Adobe Corporation to Webcast all sessions live and completely free. Adobe Connect is contributing 300 "seats" to an online seminar room where anyone throughout the world with an Internet connection can witness the judging in real time.
Each week's sessions spotlight a specific division with a select four-member judging panel. During the first week, beginning Sunday, Feb. 14, entries from the General Division and Newspaper Picture Story Division will be reviewed, culminating in two premiere award announcements – the Community Awareness Award and the Photographer of the Year-Newspaper. The following week of Feb. 21 is the Freelance & Agency Division with a different four judges, who will honor the World Understanding Award winner and the Photographer of the Year-Freelance/Agency. The final week of the judging, beginning on Sunday, Feb. 28, is devoted to the Multimedia and Editing categories, and highlights the Documentary Project of the Year recipient for multimedia work and the Angus McDougall Overall Excellence in Editing Award. A detailed judging schedule may be found on the POYi Web site at www.poyi.org.
Each day, POYi will post images that were recognized by the judges. Names and affiliations are withheld until the judging concludes on March 5. Official results will be announced on Monday, March 8, with full recognition to all individuals, organizations, and team members.
The Annenberg Space for Photography in Los Angeles will host the POYi Education & Awards Program on June 24-25. This is the second consecutive year that The Annenberg Foundation has provided POYi with educational grant to support the seminar. Additional support is provided by Nikon Professional Services through their contribution of camera awards to both first-place Photographer of the Year recipients.
Rick Shaw serves as executive director of POYi.
Updated: May 6, 2020
Related Stories
Expand All
Collapse All
---