Missouri Students and Alumni Win 8 Awards at 72nd Pictures of the Year International Competition
The Contest Drew More Than 57,000 Entries from Photographers, Videographers and Visual Editors Around the World
By Annie Rees
Columbia, Mo. (April 1, 2014) — One current Missouri School of Journalism student and six alumni and others who studied here were honored with awards at this year's 72nd Pictures of the Year International (POYi) competition, hosted annually at the University of Missouri.
The four different panels of four judges each selected the winners in 45 categories from more than 57,000 entries during the three-week judging cycle.
Rick Shaw, director of POYi, said the contest provides an invaluable learning experience to students, staff and public who want to sit in on the judging.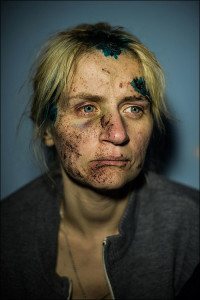 "The members of the jury are required to articulate the nuances between photographs that are often so subtle," Shaw said. In a competition the caliber of POYi, the difference between a first- and third-place photograph can be hard to discern, Shaw said.
"Students and guests who watch that discussion become more aware of details necessary to achieve that standard," Shaw said.
Master's student Alexey Furman received first place in the Portrait category this year, besting more than 1,500 images, for his portrait of a woman in Mykolayivka, Ukraine, a town that had just been shelled.
Furman had traveled to Mykolayivka, a very small town, because they hadn't been getting much media attention. He found the woman pictured in his portrait sitting, dazed, in a hospital courtyard.
"Portraits are another way of storytelling," Furman said. "Portrait can show how war influences physical and moral parts of a person. I'm just glad we were able to come to the town and raise some awareness on what happened."
Brian Storm, MA '95, working with Tim Matsui, received the award for Documentary Project of the Year in the Premier category for their project "The Long Night."
In the same category, Meghan Lyden, MA '13, along with Joe Amon, Mahala Gaylord and Tim Rasmussen, received Judges' Special Recognition for their project "Homeless Students," published in The Denver Post.
Melina Mara, who studied at the School, received third place in Issue Reporting: Picture Story – Newspaper for her picture story "Democratic Field Workers Take on Rural Alaska 2014 Midterms."
Stuart Palley, MA '13, received two awards: third place in Science and Natural History Picture Story for his picture story "Fires at Night" and an award of excellence in Science and Natural History (single image) for "El Portal Fire." Palley captures the wildfires affecting the American West using long-exposure photography.
In the Winter Olympics category, Chris Detrick, BJ '05, received an award of excellence for "Tina Maze," which depicts a skier kissing the snow after a race.
In the News Division, General News, Jerome Delay, who studied at the School, received an award of excellence for "Kevin: a Thief," an image which shows a man brutally beaten for being a suspected thief.
POYi began as a photographic contest in the spring of 1944 in Columbia, Missouri, with an intent to pay tribute to press photographers and newspapers who, despite wartime challenges, were making excellent images. It also sought to provide an opportunity for photographers of the nation to meet in open competition and to compile and preserve a collection of the best in current photojournalism.
Updated: August 4, 2020
Related Stories
Expand All
Collapse All
---