New Presidential Photo Exhibit to Be Displayed at Debates
By Jessica Pollard
MU News Bureau
Columbia, Mo. (Sept. 24, 2004) — From the iconographic to the unexpected, 67 photographs of presidents including Franklin D. Roosevelt and George W. Bush have been arranged in an exhibit that will be featured at presidential debates in the upcoming weeks.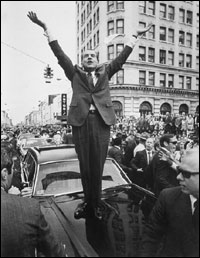 "The Presidential Image: 60 Years of the Best of White House Photography" showcases presidential images from the archives of the Pictures of the Year International (POYi) competition, one of the world's largest and most highly respected photojournalism contests. Famous photographs such as young John F. Kennedy Jr. saluting his father's casket are contrasted with seldom seen and often revealing images of the most photographed human being in the world, the president of the United States.
"It is a wonderful set of pictures and a great stimulus and backdrop for discussions about our history, the political process and how we remember these world leaders," said David Rees, POYi director.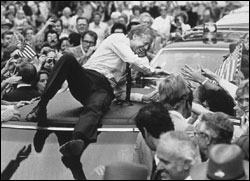 Produced by the Missouri School of Journalism and the University of Miami's School of Communication, "The Presidential Image" is being exhibited in several locations in Columbia, Mo., prior to its showing at the first two 2004 presidential debate venues at the University of Miami on Sept. 30 and Washington University in St. Louis on Oct. 8.
"The Presidential Image" was designed by David Griffin, design director for U.S. News & World Report and a 2004 POYi judge. Other corporate sponsors include MSNBC, Fuji Film and National Geographic.
Founded in 1944, POYi serves as an educational medium through its seminars, exhibits, books, online presence and work with university students. Its archive of more than 34,000 photographs are considered some of the best taken during the past six decades.
Updated: March 17, 2020
Related Stories
Expand All
Collapse All
---