Missouri Photojournalism Faculty and Students Document Life in Historic Arrow Rock, Mo.
Photojournalism Book Produced as a Sequel to 1981 Edition
Columbia, Mo. (Aug. 27, 2008) — Photojournalism faculty and students at the Missouri School of Journalism recently released a new book about the village of Arrow Rock at the Arrow Rock State Historic Site Visitor Center.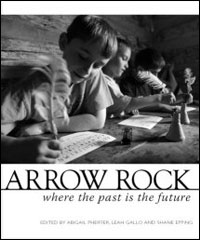 "Arrow Rock, Where the Past is the Future" is a 223-page book with nearly 300 photographs that takes readers into the homes of citizens of Arrow Rock, a small village about 40 miles northwest of Columbia nestled along the Missouri River. The book illustrates the people, places and events in the community, which is a National Historic Landmark village with a population of 79.
This three-year project was under the direction of faculty members Rita Reed and David Rees with student editors Abigail Pheiffer, MA '08, Leah Gallo, MA '08, and graduate student Shane Epping. More than 25 student photographers and copy editors contributed to the project. It is the sequel to a photojournalism book on Arrow Rock produced in 1981.
"Everyone loved the Arrow Rock book and kept asking when the photojournalism school would do another one," said Friends of Arrow Rock Executive Director Kathy Borgman. "We were thrilled when they undertook this second project. It's pretty unique to have a book that includes everyone in an entire town."
The faculty and student editors were on hand for book-signing sessions and guests at a community potluck during the launch activities on Aug. 23.
The book release coincides with an important historic milestone for the Missouri School of Journalism: Its centennial as the world's first school of journalism and the dedication of the new Reynolds Journalism Institute, an advanced studies center for journalism. The Sept. 10-12 centennial/dedication celebration will feature more than 35 Futures Forum sessions, 27 Technology Summit sessions, 11 exhibits and displays, four musical and theatrical performances, two evening meal events, and more. Alumni, students, citizens, journalists, communicators and academics from all over the world have registered for the three-day event on the University of Missouri campus.
Some of the proceeds from the sale of the book benefit the School's photojournalism program. Copies of Arrow Rock, Where the Past is the Future can be purchased at the Friends of Arrow Rock office by calling 660-837-3231, or online at the www.arrowrockarts.org Web site. Soft-cover copies are $30 and hardback copies are $40, discounted from $45 as an introductory offer. Shipping and handling fees are $8 per book.
About Arrow Rock
Arrow Rock is located 14 miles north of I-70 at Exit 98 on Highway 41. In 2006, the National Trust for Historic Preservation named Arrow Rock one of its Dozen Distinctive Destinations, and in 2008, First Lady Laura Bush named Arrow Rock a Preserve America community. Find more on the Web at www.arrowrock.org.
Updated: April 29, 2020
Related Stories
Expand All
Collapse All
---