Missouri Students Teach International Teens about MU Photojournalism Program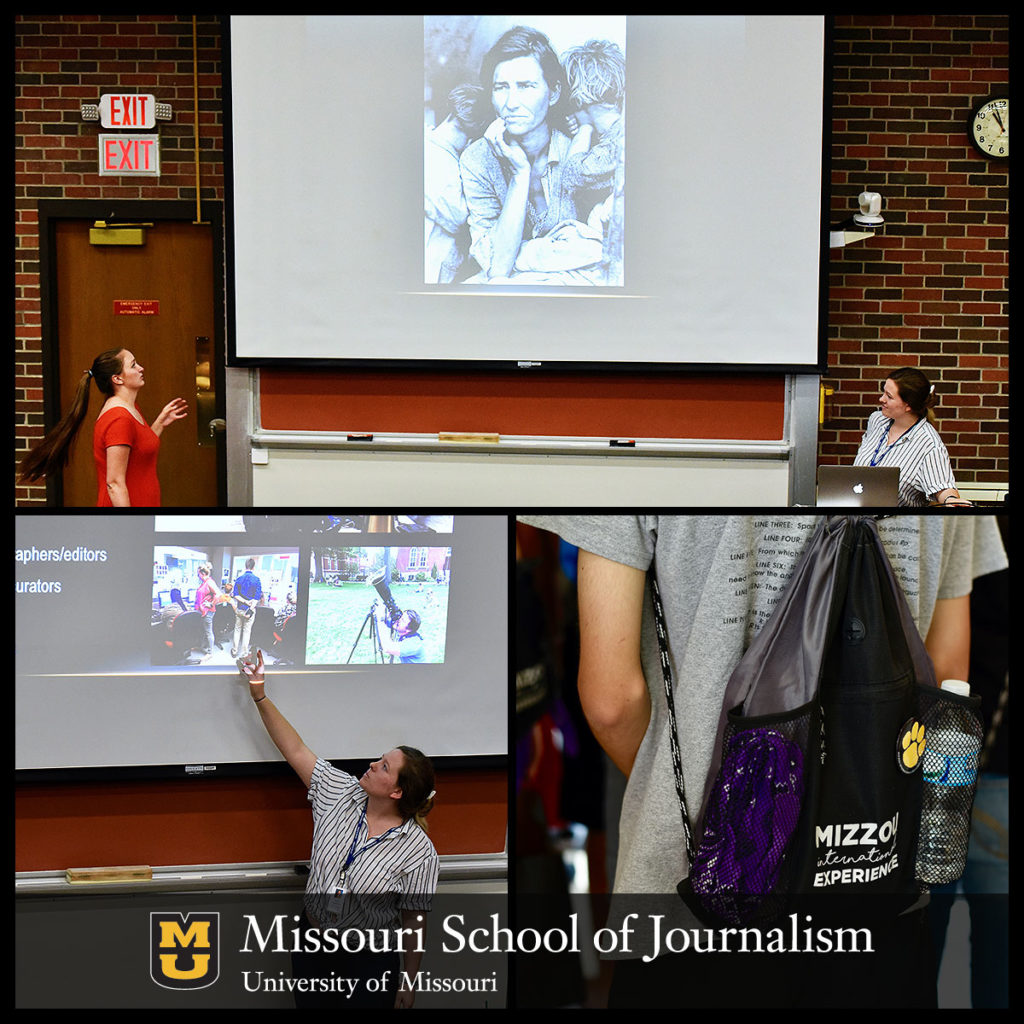 Mizzou students Jessi Dodge and Liv Paggiarino shared their passion for photojournalism with a group of international high school students as part of the Mizzou International Experience's Career Exploration Summer Program.
By Jennifer Nelson
Columbia, Mo. (Aug. 7, 2018) — Two students got the opportunity to represent the Missouri School of Journalism's photojournalism department by talking to a group of international high schoolers about the local program and the history of their chosen career path.
Graduate student Liv Paggiarino of San Diego and undergraduate senior Jessi Dodge of Kiowa, Colorado, assistant directors of photography at the Columbia Missourian, spoke to approximately 200 students from various countries including Brazil, Bangladesh and Vietnam earlier this summer. The international visitors were visiting the journalism school as part of the Mizzou International Experience's Career Exploration Summer Program.
Paggiarino and Dodge spoke about the history of photojournalism and its role in news coverage. They also talked about the Missouri program and its emphasis on hands-on learning and showcased some of the finished products from the Columbia Missourian photo staff, including coverage of the August 2017 solar eclipse.
"One of the cool things about journalism and specifically here at Mizzou is we definitely learn by doing," says Dodge, who is also a Journalism Ambassador. "So, we learn by actually going out and shooting, coming back and editing and writing captions."
The international visitors also learned about competitions including Pictures of the Year International and College Photographer of the Year and the opportunities to enter photos or volunteer with the judging process.
The women were recruited to speak by Lynden Steele, director of photojournalism at the Donald W. Reynolds Journalism Institute, and Brian Kratzer, director of photography at the Missourian.
In addition, the visitors heard from Engagement and Outreach Coordinator Melanie Forrest, who gave a brief introduction to the School of Journalism, and Associate Professor Amy Simons, who talked about news as a conversation. They also heard from StoryUp representatives about immersive media and received KOMU-TV tours, given by Journalism Ambassadors during their time at the journalism school.
"I think the first presentation [by Simons] – when we were talking about what could be considered news, like what is journalism, what is news – I think the first part was very nice. I was very interested to know a little bit more about that," says Isabila Olivera, a sophomore from Brazil, who is considering journalism as a career and raised her hand when students were asked if MU was on their radar.
Knowing that not all the international visitors have an interest in journalism, Paggiarino says she hopes they left seeing how passionate she and Dodge are about photojournalism, and that they find a college major they can be just as passionate about.
"Regardless of where they decide to go and what they decide to do, I just hope that they find what they love to do and go for it," she says.
Updated: November 4, 2020
Related Stories
Expand All
Collapse All
---