Alumna Laurie Skrivan Wins 2017 RFK Photojournalism Award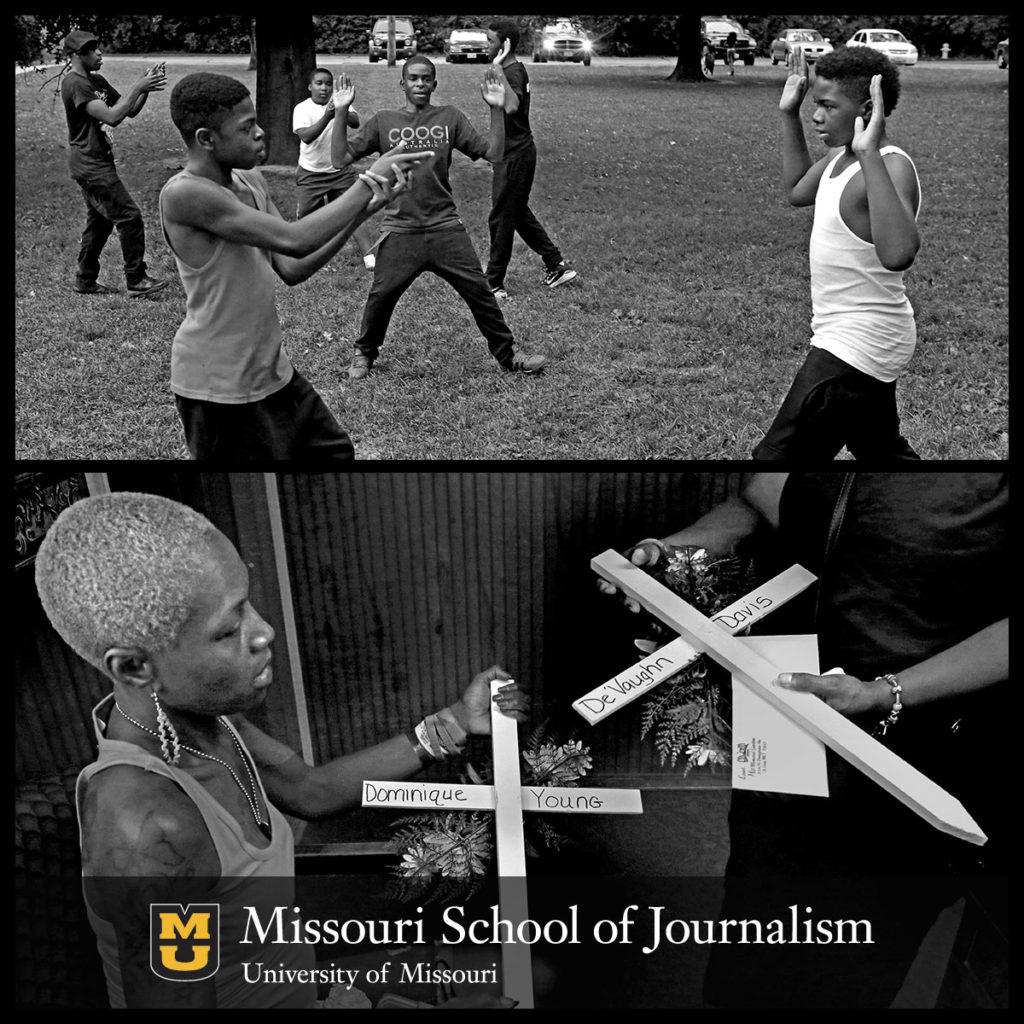 At top: "I will carry a gun when I am older – but I will never need to carry one because I am a peacemaker," says Brandon Albritton (left), 13, a member of the dance troupe the Peacemakers, practicing at the Northwinds Apartments complex in Ferguson. Cynthia Barnett, who lives in the complex, started the group along with La'Keisha Ellis of University City. The two met during protests after the 2014 Michael Brown shooting. "I wanted to create something positive for the kids," says Barnett. "I wanted to give them something to do instead of being another statistic like Mike Brown." At bottom: [Charisse] Young struggles to write the names of her sons on temporary grave markers at Laurel Memorial Hill Cemetery. With help from a fund for crime victims, she was able to put a down payment on headstones for both of her sons. Young lost her younger son, DeVaughn Davis, in a car accident in 2013. After his death, Dominique and his mother became inseparable. Photos: Laurie Skrivan, BJ '95.
St. Louis, Mo. (May 11, 2017) — St. Louis Post-Dispatch staff photographer Laurie Skrivan, BJ '95, has been awarded the 2017 Robert F. Kennedy Journalism Award in domestic photography.
The organization showcases work that tackles social issues in addition to specific news events. Skrivan's submission consisted of a portfolio of 29 images that represents a year in the life of several families living with poverty and gun violence in Ferguson and St. Louis.
Anthony Kristensen of Francis Howell North High School won the student print category for a story about a Syrian immigrant cheering the soccer team from his homeland trying to qualify for the World Cup.
Many of Skrivan's photographs were published with a story by reporter Nancy Cambria in a special report entitled, "The Crisis Within, How Toxic Stress and Trauma Endanger Our Children," and an A1 story about a mother surviving a shooting in which her son was killed entitled, "Angel of Death has Entered into this City."
Awards are given in 13 categories to print, broadcast and student work that provides "insights into the causes, conditions, and remedies of human rights violations and injustice, and critical analyses of relevant policies, programs, individual actions, and private endeavors that foster positive change."
Other winning submissions include coverage of the war in Syria, the Flint water crisis and immigration. Other honorees include broadcaster Bill Moyers for a documentary on Rikers prison, Detroit Free Press cartoonist Mike Thompson for his work about the Flint water crisis, New Yorker reporter Ben Taub for a story on the Assad regime.
"In difficult political times, the power of expression and freedom of the press is more important than ever," Kerry Kennedy, president of Robert F. Kennedy Human Rights, said in a press release. "The journalists who followed my father's 1968 campaign created the Robert F. Kennedy Journalism Awards in his name, and this year's winners have produced work that speaks to the spirit of my father and the Book and Journalism Awards."
Ethel Kennedy, wife of Robert F. Kennedy, called the winners to congratulate them. She and Kerry Kennedy will present the awards during a ceremony for the 49th Annual Journalism Awards on May 23 at the Newseum in Washington, D.C.
Updated: October 20, 2020
Related Stories
Expand All
Collapse All
---