Judging of National College Photography Competition Now Online through Vodcasting
Columbia, Mo. (Nov. 15, 2006) — For decades Missouri School of Journalism photojournalism students have had the unique opportunity to observe and collaborate with professionals during the annual College Photographer of the Year (CPOY) contests.
This opportunity is now available to anyone in the world through the technological advance of vodcasting. Remote audience members can now go online and watch the judging of some 12,500 images in 16 different categories, including spot news, sports action, feature and more. More than 500 students representing 100 colleges and universities have submitted entries to the 61st CPOY competition. The 2006 CPOY judging is being held Nov. 12-16 in Gannett Hall at the School.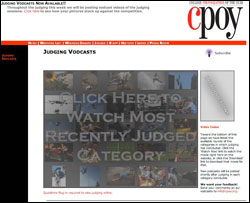 "This is a great educational enhancement of this year's judging because those not able to attend in person will be able to hear the judges' decisions in the final rounds," said David Rees, chair of Missouri's photojournalism department. "In the vodcasts, you can hear the judges' comments and see the pictures they reference in the discussion, which makes for remarkable insights into the judging process and the values of the judges."
Vodcasts of all judging sessions will be available on the CPOY site for viewing after the event.
Four professional photojournalists are on the Columbia, Mo., campus to judge the competition: Janet Jarman, freelance magazine photographer based in Mexico; Elizabeth Cheng Krist, picture editor with National Geographic; Torsten Kjellstrand, MA '94, photographer for The Oregonian and a POYi Newspaper Photographer of the Year; and Joe Weiss, an industry-leading multimedia expert and author of the software "Soundslides."
According to Rita Reed, associate professor of photojournalism and CPOY director, the competition is about more than just recognition for the students who enter.
"CPOY's greatest value is educational, both to peers and to the working professionals who donate their time to judge the contest," Reed said. "It encourages photographers to sort through and evaluate their own work and assemble the best of it to show."
Missouri Journalism students have numerous opportunities to compete and learn from professionals, including the Pictures of the Year International competition (POYi), the Missouri Photo Workshop and the Hearst Journalism Awards program.
Cliff Edom, founder of the photojournalism area of emphasis at the School, and his wife, Vi Edom, founded CPOY in 1945. It is now co-sponsored by Nikon Inc., which allows free entry to college students worldwide. In conjunction with the contest, the National Press Photographers Foundation administers the Colonel William J. Lookadoo and Milton Freier Memorial Awards. In 2005, contributing sponsor National Geographic magazine began offering an internship to the Gold winner of the Portfolio category. Winners are awarded equipment and educational opportunities provided by Nikon Inc., The Poynter Institute and the Missouri Photo Workshop.
Updated: April 15, 2020
Related Stories
Expand All
Collapse All
---