Judging of 70th College Photographer of the Year Competition Now Live
Postcasts, Blogs, Twitter, Facebook, Instagram Provide Global Access to Behind-the-Scenes Action
By Annie Rees
Columbia, Mo. (Nov. 11, 2015) — For decades, Missouri School of Journalism photojournalism students have had the exceptional opportunity to observe and collaborate with professionals during the annual College Photographer of the Year (CPOY) contest, now in its 70th year. This is a collegiate version of the Pictures of the Year International (POYi) photography competition, which is also hosted at University of Missouri.
This year, more than 11,000 still images and 165 multimedia stories were entered from 560 students representing 122 schools in 24 countries. The contest is directed by photojournalism Professor Rita Reed with assistance by Associate Professor Jackie Bell.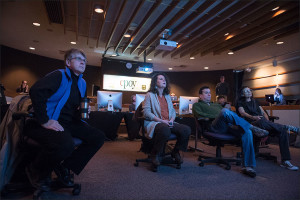 On-campus students are invited to watch the judging take place in Tucker Forum in Gannett Hall. Everyone else is encouraged to follow "screencasts," or podcasts of the final rounds of judging in each category, and images of winning work on the CPOY website. An approximate schedule is also posted on the site.
The latest information will be available on Twitter via @collegephotog or on Facebook: College Photographer of the Year and Instagram: @collegephotog.
Alexey Furman, a master's student in photojournalism, is spearheading this year's CPOY blog. He and a team of volunteers are posting student-produced video interviews with the judges, a discussion between last year's Portfolio winners; a peek behind the scenes at Tucker Forum; and insights by photographers about their winning images in a new feature, "Catching Photo of Yours."
Judges for this year's still picture category judging are award-winning documentary photographer Maggie Steber, freelance picture editor Mary Vignoles, and Minneapolis Star Tribune photographer Carlos Gonzalez.
Mary Vignoles will be joined by Danny Gawlowski of The Seattle Times and Jim Seida of NBC News for the judging of the Multimedia Division, with moderation by Joe Weiss, creator of Soundslides.
Master's students Taz Lombardo and Aaron Phillips are the student coordinators at this year's CPOY. Missouri students also help run CPOY: calling IN and OUT on images, updating the website, reading captions aloud and running the soundboard to assure quality audio for viewers both in the room and through the screencasts.
CPOY is a valuable learning ground for students to learn from professionals in the field.
"Rita Reed tries to maximize the opportunities for student/judge interaction," Lombardo said.
Missouri Journalism students have numerous opportunities to compete and learn from professionals, including the Pictures of the Year International competition, the Missouri Photo Workshop and the Hearst Journalism Awards program.
Cliff Edom, founder of the photojournalism area of emphasis at the School, and his wife, Vi Edom, founded CPOY in 1945. It is now co-sponsored by Nikon Inc., which allows free entry to college students worldwide. In conjunction with the contest, the National Press Photographers Foundation administers the Colonel William J. Lookadoo and Milton Freier Memorial scholarship awards. In 2005, National Geographic magazine returned as a contributing sponsor, once again offering an internship to the Gold winner of the Portfolio category. Winners are awarded equipment and educational opportunities provided by Nikon Inc., Missouri Photo Workshop, Summit Photography Workshops and MediaStorm.
Updated: September 14, 2020
Related Stories
Expand All
Collapse All
---