Missouri Photojournalism Student Covers NASCAR During Summer Internship at the Orlando (Fla.) Sentinel
Behind the Scenes with Dale, Danica, and the Intern
By Stephen M. Dowell
Orlando Sentinel (Used with permission)
Missouri School of Journalism photojournalism student Megan May scored the lead image on the front page of a July Orlando (Fla.) Sentinel sports page with a photo she took during her first NASCAR race assignment. Sentinel photojournalist Stephen M. Dowell shares behind-the-scenes insights in the following article. 
---
July 16, 2013 (Daytona Beach, Fla.) — Our photo intern, Megan May (from the esteemed University of Missouri School of Journalism), was inducted into the NASCAR world as we assigned her to photograph the July races at Daytona. She, Joe Burbank and I covered the races and the events leading up to the Nationwide and Sprint Cup night races at Daytona International Speedway.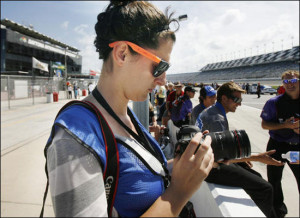 Megan, having no previous experience shooting stock car races, was thrown into the fire. From the fan crush surrounding various celebrities, press conferences, garage and qualifying intensity, and race action, she was fully immersed in the race experience.
She started by photographing fans in the infield area and then moved on to Danica, Dale, Tony and the other big-name drivers during qualifying and driver press appearances. As she noted, it's a lot of running around and trying to get a decent picture with dozens of fans swarming the drivers.
We also gave Megan other celebrity opportunities. She waded into the crush to photograph fellow Mizzou alumni Sheryl Crow during her concert, and pushed and shoved with the rest of us at the press conference of Adam Sandler, Shaquille O'Neal and Kevin James.
We were impressed with her sports action photography immediately. The first race action she photographed was the Subway Firecracker 250 Nationwide race on Friday evening. I made the decision to position Megan at the notorious "turn four" location. Turn four has been the site of so many memories over the years at Daytona, including the wreck that ended the life of racing legend Dale Earnhardt.
We warned Megan to be very alert as the cars roar by turn four, since it is so fast and the photographers are so close to the actual track. If you blink, you'll miss the action there. We also told her she might be there for an entire race and not see any wrecks or other action, since the significant race action may occur elsewhere. In other words, "Megan, don't expect to get anything your first race." Just wear ear protection (absolutely essential) and enjoy the action.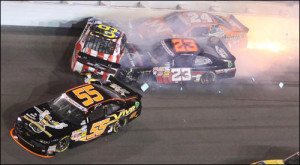 She proved us wrong.
A quick-moving wreck with Travis Pastrana and Jason White happened on turn four. With my experience of shooting at that location, I was just hoping maybe she'd have a frame or two of the end of the wreck or some sort of aftermath. She was all over it though, and had the entire crash from beginning to the flaming end!
Megan had the lead photo (see below) on our sports front the next day, beating myself and veteran Joe "Fireball" Burbank! That's a pretty impressive showing for a first-time photographer.
Joe summed it up with, "Megan's going to want to come back every race now and shoot at turn four!"
Updated: July 17, 2020
Related Stories
Expand All
Collapse All
---