Longtime Missouri Photojournalism Chair Honored
Endowment Will Underwrite Visiting Professionals in Photojournalism
Columbia, Mo. (Sept. 16, 2015) — An alumnus of the Missouri School of Journalism has created the David Rees Visiting Professionals Fund in Photojournalism to honor his former professor, a member of the School's faculty since 1986.
This permanent endowment, established by Mr. Sandy Colhoun, MA '98, honors Rees, who serves as chair of the School's photojournalism faculty. In the Missouri Method spirit of learning by doing, the fund underwrites travel and honoraria to bring leading photojournalists into the School's classrooms and studios, enriching the hands-on experience students receive.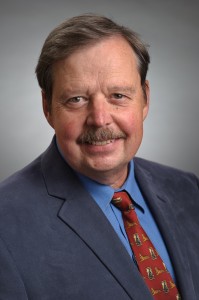 Colhoun said that it is hard to imagine a teacher more devoted to the field of photojournalism than David Rees.
"With his thoughtful and gentle demeanor and a discerning eye, Dave has quietly guided thousands of aspiring photojournalists as they launched their careers," he said. "A glance through any major magazine, newspaper or online photo essay often finds photographers who got their start at Mizzou. Dave's decades-long commitment to the School is worthy of our collective support, which is why I chose to make a gift in his name. Thank you, Dave!"
During his tenure at the Missouri School of Journalism, Rees has led each of the School's hallmark professional programs – Pictures of the Year International, the Missouri Photo Workshop and College Photographer of the Year. He oversaw the development of the program's McDougall Center for Photojournalism Studies and the Edom Photojournalism Laboratory, both state-of-the-art digital facilities dedicated in 2008. Under his leadership, the photojournalism program at Missouri continues to be a national academic leader.
Colhoun serves as director of development for the New Hampton School, an independent college preparatory high school located in New Hampshire. A native of Baltimore, Maryland, Colhoun received his Bachelor of Arts degree in government with distinction from Colby College in 1991 and his Master of Arts degree in journalism from the Missouri School of Journalism in 1998. Previously, Colhoun was an editor and staff reporter for several publications including The Antarctic Sun at McMurdo Station and The Christian Science Monitor in Boston.
Online donations may be made at giving.missouri.edu/rees. For additional information, contact the Missouri School of Journalism Office of Advancement at (573) 882-0334.
Updated: September 10, 2020
Related Stories
Expand All
Collapse All
---