David Rees Named to Missouri Photojournalism Hall of Fame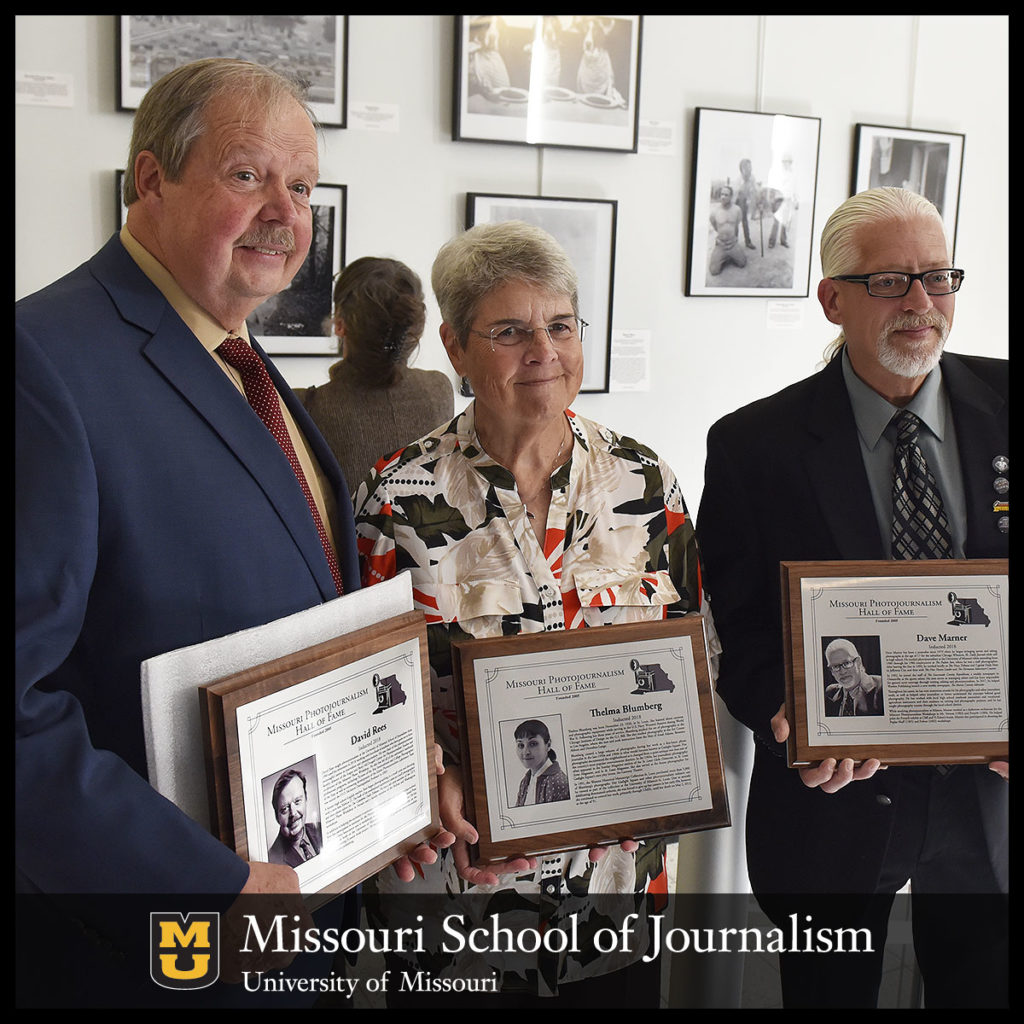 At left, photojournalism Professor Emeritus David Rees displays his commemorative plaque after being inducted into the Missouri Photojournalism Hall of Fame. Rees is joined by fellow inductees Thelma Blumberg and Dave Marner.
By Nate Brown
Columbia, Mo. (Oct. 30, 2018) — David Rees received a C-plus on a photo class assignment in 1974. Undeterred, he continued his graduate studies, which led to a decades-long career behind the lens and in front of the classroom. On Oct. 18, he was inducted into the Missouri Photojournalism Hall of Fame.
The Hall of Fame recognizes individuals who made outstanding contributions to Missouri journalism in one or more of six categories, including leadership in education and long-term photography for a Missouri publication or news outlet.
Rees (MA '81) taught photojournalism at the Missouri School of Journalism for 32 years. His roles included Columbia Missourian photo director, College Photographer of the Year director, Missouri Photo Workshop co-director and Pictures of the Year International director. He was named the O.O. McIntyre Distinguished Professor in 2003, and was photojournalism faculty chair when he retired earlier this year.
During his acceptance speech, Rees recalled how his career path was set after completing a coveted internship in Washington, D.C.
"As an intern, I learned I didn't want to be a National Geographic photographer," he said. "They removed all possible excuses about equipment or expenses and expected the goods. It was challenging and rewarding, and I learned I preferred a home life and community journalism."
His newspaper career included 10 years as a photographer and photo editor with the Columbia (Missouri) Daily Tribune. Before pursuing his master's degree, Rees was a high school English teacher.
Over a slice of pizza at Shakespeare's Pizza, Rees interviewed for a part-time teaching position at the School with Bill Kuykendall, then head of photojournalism. "I suspect he thought I would probably be a short-timer, that I could help out in a pinch," recalled Rees. "The high school teaching I'd done in Nebraska, coupled with a passion for good photography and journalism, fueled me with enough courage to attack the classroom. I was energized by the material and by the students."
He worked with "thousands of talented and hardworking students" over the years, he said, which allowed him to constantly hone his craft to become a better teacher.
Said Rees, "I want to thank my many colleagues and students through the years who partnered in this joy of learning, this ecstasy of trying to be better with every assignment, every project and every career."
He also thanked Christine Marshall, the photo subject he met during that 1974 class assignment. She's been his wife for the past 40 years.
Updated: November 5, 2020
Related Stories
Expand All
Collapse All
---