2 Missouri Journalism Students Create a Major Multimedia Exhibit About Boone County Residents
'100 Ages, A Century of Voices' Shares the Stories of Those Between the Ages of 1 and 100
By Gwen Girsdansky
Columbia, Mo. (Sept. 30, 2013) — Missouri School of Journalism photojournalism student Alyssa Goodman was walking to her internship at Xinhua News Agency of China in Brussels during the summer of 2012 when she passed an exhibition of 200 large portraits lining the sidewalk. There were 100 male and 100 female photos for each age 1 to 100. The display impressed Goodman.
When Goodman returned to Missouri for the fall semester, she combined her lingering interest in the display with an assignment in her editing class. Goodman interviewed Edouard Janssens, the photographer who created the series, to learn about his inspiration for the project. One of the points Janssens made during the interview was that the exhibit was missing the subjects' voices. The viewers only saw portraits, and these didn't communicate the peoples' stories.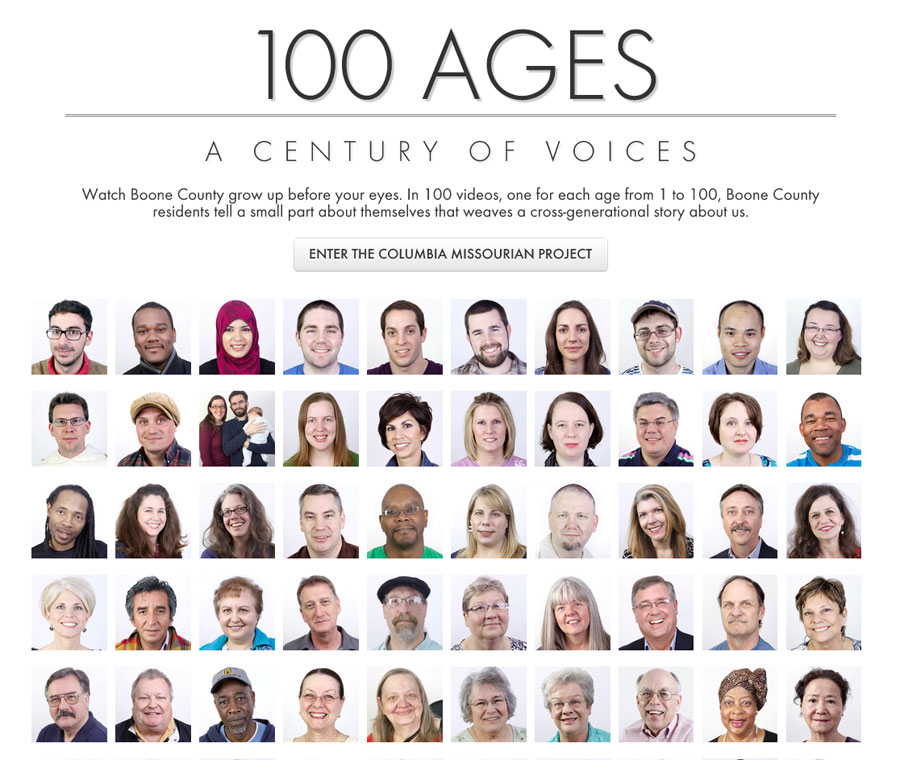 Goodman shared her conversation with her classmates, and one of them, photojournalism master's student Katie Alaimo, took an interest in the project. The two decided to adapt the project by using documentary-style videos so those included could tell their own story.
Now, "100 Ages, A Century of Voices" is a reality. It was published in the Columbia Missourian and is on display until Oct. 25 in the McDougall Center Gallery in Lee Hills Hall at the Missouri School of Journalism. The community will come together to celebrate the project and meet some of the people behind the stories from 5:30 to 8 p.m., Thursday, Oct. 3, at Jack's Gourmet Restaurant in Columbia.
"It really put all my journalism studies into work," Goodman said. "Between finding subjects, interviewing process and editing, it really brought so many elements we have been taught for years together." Goodman graduated with her bachelor's degree in journalism in May. She is a photo editor at The Associated Press headquarters in New York.
The process of getting 100 Boone County residents, each of a different age, to agree to share their story on camera was a challenge. Alaimo and Goodman advertised through social media, but most leads came from old-fashioned shoe leather and word of mouth.
"It was difficult," Alaimo said. "One of the areas we struggled the most in was simply finding the people. At first we tried to go primarily through social media, but we found that the best way to find individuals was by hitting the streets and talking with community members. Also, time. Because we were on such a strict deadline it never felt like time was on our side."
Among the 100 stories is one by Rex Dillow, 90, who tells war stories buried in his mind. Zahra Rasool, 23, shares how her hijab stands out in a place like Columbia, unlike in her native India. Mabel Grimes, 69, says she gave a eulogy to the cotton field.
Goodman said that many thought she and Katie were overambitious for taking on such a large project that needed to be completed in about four months. The two credit their faculty supervisor who never doubted their ability to make a far-fetched dream a reality.
"From the start, Brian Kratzer pushed us harder than we've ever worked before and that drive and passion for storytelling only became stronger as he helped guide us to what we can all now sit back and enjoy," Goodman said.
Goodman and Alaimo's classmates helped with various aspects of the project. Master's student Will Guldin, BJ '11, built the website. Jason Redmond, BJ '13, created the video trailer used to advertise the complete project. Other students helped with editing and related needs: Katie Artemas, Shaina Cavazos, Kholood Eid, Tatiana Fernandez, Alli Inglbright, Greg Kendall-Ball, Yi-Chin Lee, Zach Murdock and Andrew Wagaman.
In addition to Kratzer, other Missouri Journalism faculty who assisted with the project were Erica Babcock Mendez, Elizabeth Connor, Laura Johnston, Joy Mayer, David Rees, Tom Warhover and Ying Wu.
"I felt like it was the perfect end to my college career," Goodman said. "It's hard to say the biggest takeaway, but I'll always remember my time spent in our tiny makeshift studio with our subjects. They taught me more about life, aging, overcoming challenges, family and many more things that I will never forget."
Updated: July 20, 2020
Related Stories
Expand All
Collapse All
---