Master's Student Zahra Rasool Launches News-Brief Startup 'Gistory'
Platform Pins Original News Briefs to Map to Contextualize News Stories Around the World
By Rebecca Dell
Columbia, Mo. (Feb. 5, 2015) — It was a frequent question from her mother that prompted Missouri School of Journalism master's student Zahra Rasool to create a new site that would contextualize the news by combining the best attributes of platforms such as Wikipedia and Google Maps.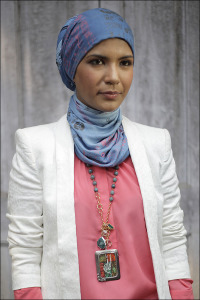 Rasool would share mid-Missouri events and politics as well as discuss international news with her family who live in Mumbai, India. Her mother, 8,000 miles away, had little geographical or other context for the news. Many conversations ended with the question: "But how did it start?"
Now, as Rasool finishes her master's project in India, she's launching Gistory. The goal is to provide complete, concise and contextual news briefs to give the average person the background on developing news stories.
Rasool took some time off after earning her bachelor's degree in 2013 and beginning her graduate studies to work as an intern and then a fellow at Al Jazeera English in Washington, D.C. There, she attended a conference about the necessity of innovation.
"It made me want to be a part of this new wave of media journalism," Rasool said.
When she came back to Missouri during the fall of 2014 to complete her master's degree, Assistant Professor Jim Flink suggested she sign up for his Emerging Technologies in Journalism class. She asked Flink if she could spend the semester combining her knowledge of current media innovation with her idea for a contextual news platform. Flink, former vice president of Newsy, agreed, as long as she could produce something at the end of the semester for him to evaluate.
Rasool contacted the University of Missouri's Computer Science department and worked with two Web developers to create a prototype for the site. She started personally investing her savings in the business. At the end of the semester, Rasool presented the project to Randy Picht, the executive director of the Donald W. Reynolds Journalism Institute. He offered RJI funding to help with Gistory until Rasool could get investors on board.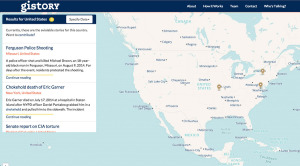 Rasool currently has a team of about 20 volunteer writers, garnered from the School, MU and around the world, preparing briefs to be up when the site launches in early March. Fellow School of Journalism master's student Bryan Bumgardner is working on ways to monetize the site as the director of business development.
"Gistory is possible only because of the incredible team we have working," Rasool said.
Three other Missouri School of Journalism students are on Gistory's staff: Caroline Bauman, assistant news director; Nassim Benchaabane, director of news; and Katie Yaeger, director of audience development and engagement. Flink continues as the principal adviser.
Other University of Missouri students on the team are Femi Odugbesan and Aleks Sverdlovs, both directors of software development; Sam Whitney, director of infrastructure services; and Avery Wagner, director of design.
As the site grows, local users will be able to enter news items, which will be verified and edited by Gistory staff. Later on, Rasool envisions a "Gistory" button embedded on major news sites that readers can click to discover background information and better understand stories. In doing so, Gistory would free news writers to go deeper into stories without having to rehash previous news accounts.
In the meantime, Rasool is finishing her master's project: a documentary about women in India working through the political system to achieve equality and empowerment. The project is supported in part through the $12,000 O.O. McIntyre Fellowship, which Rasool received in 2014. It is the highest postgraduate award given by the Missouri School of Journalism.
Updated: July 31, 2020
Related Stories
Expand All
Collapse All
---