NPR Series Benefits from Graduate Student's Data Journalism Skills
Anna Boiko-Weyrauch, MA '13, Analyzed Government Data to Show How Accidents, Injuries and Violations Harm Miners
By Caroline Murray
Columbia, Mo. (Nov. 25, 2014) — A recent NPR series on delinquent mine owners benefitted from the data journalism skills of a Missouri School of Journalism graduate student. Anna Boiko-Weyrauch, MA '13, worked on the series as part of her master's project.
For the series, "Delinquent Mines," Boiko-Weyrauch analyzed a massive database of accidents, injuries and mine violations and quantified the rates of harm done to miners at the operations of nearly 3,000 delinquent mine owners.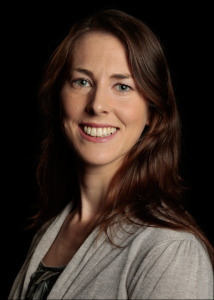 The series consisted of five installments aired on "Morning Edition" and "All Things Considered." She led reporting and voiced one of them that aired on the "All Things Considered" program on Nov. 13, 2014. That day, Boiko-Weyrauch's story became NPR's "Story of the Day" on the network's podcast of the same name.
The investigation found nearly 3,000 mine operators continue to manage operations that put miners at risk despite racking up decades' worth of delinquent mining penalties. Federal regulators say they do not focus on collecting the fines, and they do not have the authority to shut down a mine for unpaid fines.
Boiko-Weyrauch's story focused on the top delinquent mine, which caused the death of one miner and continued to produce coal despite accruing millions of dollars in delinquent safety penalties. The findings of the investigation have been quoted and commented on in major newspapers throughout Appalachia, including the Charleston Gazette in West Virginia, the Lexington Herald Leader and Louisville Courier Journal in Kentucky as well as the Mother Jones news organization.
Boiko-Weyrauch reported on this series during the duration of her time at NPR headquarters in Washington, D.C., from August 2013 to July 2014. There she researched collaborations between public radio organizations and non-profit investigative journalism organizations.
Boiko-Weyrauch studied investigative reporting and worked at the Investigative Reporters and Editors' database library while at the Missouri School of Journalism. She played a crucial role in interpreting the vast amount of data Howard Berkes, correspondent for the NPR Investigations Unit, and Ellen Smith, managing editor of Mine Safety and Health News, already had.
"No one had ever analyzed these numbers before in the way we did, so we spent hours and hours and hours talking about the fairest, most accurate and most complete way to calculate the data," Boiko-Weyrauch said.
Boiko-Weyrauch was successful in that analysis and quantification. Berkes, the series' lead reporter at NPR, said she turned around the reporting on the story.
"We showed [Boiko-Weyrauch] what data was available, government-provided raw data, and she was able to see a way we could demonstrate a consequence," Berkes said in an interview with the Eugene Weekly in Oregon. "It took us months to figure out how to do that with confidence, with data integrity, as she put it."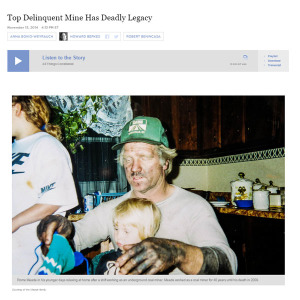 Boiko-Weyrauch is now a reporter at I-News, the public service journalism arm of Rocky Mountain PBS.
Boiko-Weyrauch said that the reporting she did for NPR would not have been possible without courses such as Associate Professor David Herzog's computer-assisted reporting class and Associate Professor Mark Horvit's investigative reporting class. Horvit and Herzog served on her master's committee, along with Professor Barbara Cochran, who directs the School's Washington program and serves as the Curtis B. Hurley Chair in Public Affairs Reporting.
"It was really satisfying to see Anna come to the J-School, immerse herself in computer-assisted reporting, and then contribute heavily to a major project at NPR," Herzog said.
Aside from CAR, the School offers other data journalism classes. A new advanced course will help students learn how to use the Python programming language to harvest Web data that is otherwise difficult to download.
Graduate students can deepen their data skills even more with graduate research assistantships in the database library. The GRAs help update some 40 data sets from the federal government and help news organizations analyze data.
Boiko-Weyrauch obtained her bachelor's degree from Global College at Long Island University, an international program where students spend the majority of their undergraduate years overseas. She spent the majority of her time there in Costa Rica, China, Thailand, India and Rwanda. She said the hands-on learning of her undergraduate program made the Missouri method of journalism – first-hand experience coupled with classroom learning – feel like home.
"I really can't overstate what a transformative experience going to the J-School was for me," Boiko-Weyrauch said. "I have been reminded of all the fabulous things I learned in every internship and job I've had since I finished classes. I feel like I gained a toolbox full of power tools that I utilize daily."
Updated: July 31, 2020
Related Stories
Expand All
Collapse All
---