KBIA-FM Among Select NPR Stations to Participate in Knight Foundation's National Training Program
Students to Benefit with New Web-based Skills and Digital Techniques
By Gwendolyn Girsdansky
Master's Student
Columbia, Mo. (March 4, 2013) — KBIA-91.3 FM is one of 10 NPR-member stations selected to participate in an 11-week intensive training program sponsored by the Knight Foundation, and Missouri School of Journalism students are already benefiting from the instruction.
KBIA's news director Janet Saidi, producer Rehman Tungekar and content director Scott Pham attended the inaugural three-day leadership conference in Washington, D.C., in early January. The program runs through the end of March. Saidi also serves as an assistant professor of radio-television journalism at the Missouri School of Journalism.
KBIA is one of the school's real-media, hands-on professional learning laboratories for students study radio-television journalism. The station reaches an audience in a 70-mile listening radius in mid Missouri plus Kirksville.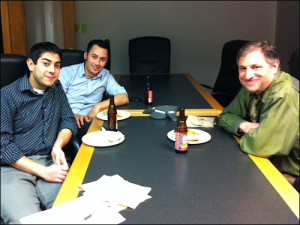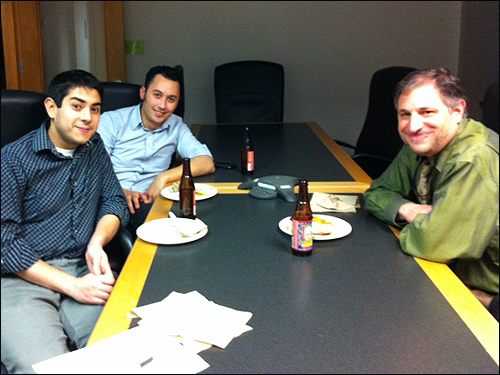 The three participated in training and idea-sharing with top NPR thinkers, including Kinsey Wilson, chief content officer; Mark Stencel, managing editor for digital news; and Mark Memmott, host of The Two-Way blog. Among the topics covered were strengthening the local-national network, breaking news in Web time, nonlinear audio storytelling, blogging as a strategy and successful local story formats.
Faculty and KBIA staffers have already begun to incorporate the new techniques by helping the school's radio students blend their skills by requiring them to write a Web story from their radio script, rather than just posting the radio script online.
"It's not about making your radio content look good on the Web, it's about going Web-first and writing for the Web," Pham said. "It's making news products that don't just live on the Web but are designed to interact with that audience."
Saidi said that KBIA and others from NPR's 800 affiliates frequently interact and communicate.
"This creates a sort of 'culture spread' that results in a consistent production quality of what you hear on air at NPR-affiliate stations across the country," Saidi said.
What made this training different, Saidi said, is that it encourages a unique news culture, a shared approach to news and ideas coupled with the role of journalists across NPR stations.
"When you add bright Missouri journalism students into this mix with trained NPR-affiliate journalists, it's a winning combination," Saidi said.
Updated: July 13, 2020
Related Stories
Expand All
Collapse All
---