KBIA-FM Wins Top RNA Award for Religion Reporting
Broadcast Special 'Heartland, Missouri' Wins for Excellence in Radio or Podcast Religion Reporting in Annual Contest
By Kiara Ealy
Columbia, Mo. (Oct. 5, 2015) — "Heartland, Missouri," a special report by KBIA-FM, has won the 2015 Religion News Association's first place honor for Excellence in Radio or Podcast Religion Reporting.
The 30-minute feature has become a nationally recognized, multi-award-winning piece on the intentional Christian community in northeastern Missouri. It is the first RNA award for KBIA, mid-Missouri's NPR-member station.
The Heartland community spans three counties and was founded by Charles Sharpe in 1995. It's home to Heartland Dairy, Heartland Community Church, a men's recovery program – and most controversially, Heartland Christian Academy – which has received scrutiny for its use of corporal punishment and in 2001 was the center of a state raid.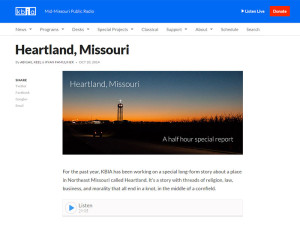 Judges of the RNA contest lauded KBIA's use of sound and storytelling to investigate the Heartland community.
"Intensely compelling radio journalism. The reporting reminded me of the Serial podcast," an RNA contest judge commented. "It was difficult to listen to the parts about corporal punishment, but it helped to paint a picture of what was going on at Heartland. Excellent storytelling. Excellent use of sound."
"Heartland, Missouri" succeeded with the yearlong collaboration of KBIA news director Ryan Famuliner; Casey Morell, MA '14; and Abigail Keel, BJ '15; and former news director Janet Saidi. Mike Dunn serves as the station's general manager.
"We're humbled by the award, especially considering the high-caliber work it was up against," Famuliner said.
Both graduates who worked on the project have gone on to land highly regarded positions in public radio. Morell is the coordinating producer for Nevada Public Radio. Abigail Keel has taken on a competitive internship with Radiolab, a radio show that mixes sound, science and culture.
The RNA was established in 1949 to help journalists across the globe cover religion with balance, accuracy and insight. The RNA annual contest began in 2006 and honors outstanding religion reporting in the categories of newspaper, multiple media, magazine, broadcast and books.
The RNA Excellence in Radio or Podcast Religion Reporting is one of nine awards "Heartland, Missouri" has received, which also includes the Society of Professional Journalists Sigma Delta Chi Award, three PRNDI Awards, two regional Edward R. Murrow Awards, a Missouri Broadcaster's Association Award, and runner up of the Miller Audio Prize Contest.
Updated: November 19, 2020
Related Stories
Expand All
Collapse All
---