Center on Religion and the Professions Debuts New Name
Missouri School of Journalism Affiliate Leads Research on Coverage of Religion
By Amy White
Center on Religion & the Professions
Columbia, Mo. (Aug. 30, 2007) — A new name will kick off the new school year for the Center on Religion & the Professions, an affiliate of the Missouri School of Journalism and the Donald W. Reynolds Journalism Institute at the University of Missouri.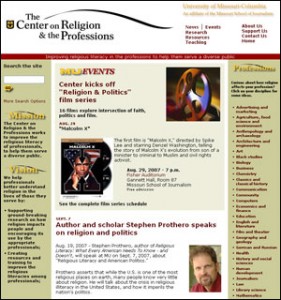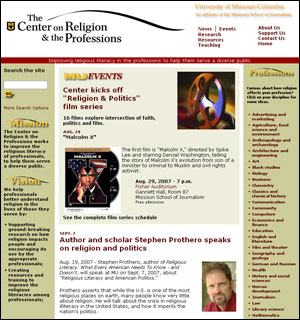 The Center works to improve religious literacy among professionals, including journalists, so that they can better serve, cover and communicate with a diverse public. Founded in 2003 as the Center for Religion, the Professions & the Public, the Center received approval in June to change its name to the Center on Religion & the Professions.
The new name is more succinct, avoids awkward acronyms and makes marketing the Center's activities more manageable, said Debra Mason, director of the Center since September 2006. She also serves as executive director of the Religion News Association, a professional association for journalists who write about religion in mainstream media.
"We still see the public as central to what we do – both in terms of outreach and programs – because the public is the focus of what professionals do," Mason said.
The Center's multidisciplinary outreach programs support the philosophy that as America grows more religiously diverse, professionals in all fields need to better understand the religious traditions and beliefs of the public they serve.
The Center is a national leader in research on coverage of religion in the media and journalists' attitudes about and knowledge of religion. It also develops curriculum for training journalists in covering religion. Other activities include public forums and related events to increase the visibility of religion in the public sphere.
The program theme for the 2007-2008 year is "Religion and Politics." Among the activities planned on the University of Missouri campus is a film series and lecture on religious literacy and American politics by Stephen Prothero, author of Religious Literacy: What Every American Needs to Know – and Doesn't.
The interdisciplinary Center also has close ties to the MU College of Arts and Science and other professional schools. It was founded in April 2003 with a $1.4 million grant from The Pew Charitable Trusts and received a $1.5 million renewal grant in December 2005. The latest grant is funding a major new study of the future of religion journalism, new research on the relationship between spirituality and the coping skills of long-term disabled patients as well as new public outreach and continued teaching initiatives.
In addition to a new name, the Center has launched a redesigned website, new logo and new Web address.
Updated: April 20, 2020
Related Stories
Expand All
Collapse All
---