Recent Journalism Graduate Named a Finalist for National Religion Writing Student Award
Columbia, Mo. (July 13, 2006) — Leah Lohse, BJ '06, is one of ten finalists for the highest national award given to young writers on religion.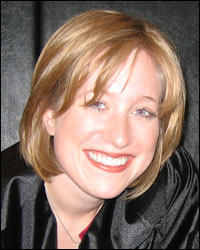 The Chandler Award for the Student Religion Writer of the Year recognizes excellent reporting skills at the collegiate level and a grasp of religion issues that is fair and balanced according to journalistic standards. The award is sponsored by the Religion News Association and is named after Russell Chandler, a former religion writer for the Los Angeles (Calif.) Times.
Lohse, who earned a bachelor's degrees in journalism and religious studies in May, said that she is thrilled to be a finalist for an award that acknowledges her passion.
"I have always been fascinated by religion. While at MU, I found that as a reporter, examining religious beliefs unlocks people, allowing you to see their motivations and intentions and why they interact with the world the way they do. The topic is never the same and has never been boring," Lohse said.
Lohse entered three stories in the competition. "Religious Divide" took an in-depth look at the theology behind the moral debate over homosexuality. Another story, "The Soul of a Soldier," focused on how one Army soldier refused to obey a direct order to use a weapon because it violated his Christian beliefs. The other entry, "Healing Presence," was about different Buddhist beliefs in Columbia. All were published in the Columbia Missourian, the working newspaper lab for students in news-editorial, design, information graphics and photojournalism.
"As a journalist and a person of faith, I think one of the most difficult aspects of religion reporting is being able to separate myself from the issues I report on," Lohse said. "Two of the stories I submitted deal with hot-button issues in Christianity right now: homosexuality and the war in Iraq. I went in with an open mind and came out seeing that Christians across the spectrum were all trying to formulate a worldview that was consistent with what they believed the Bible taught. And once I discovered that, it was easy to drop any pre-existing value judgments. That was very freeing."
Missourian City Editor Brian Wallstin worked with Lohse on the stories. He said that he wasn't surprised at her being selected as a finalist.
"I knew her body of work at the Missourian would stand up against anyone's. Leah's an exceptional reporter and an exceptional person. Her greatest assets, I think, are her own deep faith and her open mind. Leah genuinely cares about the world and making it a better place," he said.
The Student Religion Writer of the Year winner will be announced at the RNA awards banquet on Sept. 9 in Salt Lake City, Utah. If selected, Lohse would receive a $500 prize and a travel stipend to attend RNA's annual conference to accept the award.
Lohse, of Albert Lea, Minn., will begin teaching English and writing classes at an all-girls secondary school in Kenya, Africa, in January. She will also write for the organization, Africa Inland Mission, a nondenominational Christian missionary organization. As a student Lohse interned at The Albert Lea Tribune, served as a Residential Life Peer Advisor and a Journalism Ambassador and was a member of the University of Missouri Honors College. She also co-led a Habitat for Humanity trip during a spring break.
Updated: April 28, 2020
Related Stories
Expand All
Collapse All
---