KBIA Wins Second National Edward R. Murrow Award
Student Reporters August Skamenca, Matt Wynn Investigate, Write and Produce Award-Winning Story
Columbia, Mo. (June 28, 2007) — It was a repeat performance for KBIA and Missouri School of Journalism senior August Skamenca in this year's national Edward R. Murrow Awards contest, presented by the Radio-Television News Directors Association.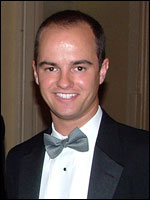 Skamenca and Matt Wynn, BJ '07, won a 2007 national Murrow Award for their month-long collaborative investigation "Dead Voters" that aired on KBIA, the School's NPR-affiliate station that serves as a training lab for students. The award is the second for Skamenca, who worked with KBIA news director Sarah Ashworth and former reporter Kyle Palmer, BJ '05, on a story that won the station's first national Murrow in 2006.
The Murrow Awards are highly competitive, and winners regularly include CBS Radio News, ABC News Radio and major stations throughout the country. KBIA students compete with professional journalists, some who have been reporting for decades, Ashworth said.
"I never expected KBIA to win two national Murrow Awards back to back," Ashworth said. "I still can't believe it, and I'm so proud of everyone in the newsroom for helping to create a culture that is open to good stories and seeks them out."
Skamenca and Wynn won their award for investigative reporting, one of 13 categories in the competition. "Dead Voters" is a seven-minute piece that revealed 10,000 deceased Missourians are still registered to vote. The pair compared names from the Social Security Administration's national death registry to Missouri's voter registration database to produce the story.
"There were many late nights for Matt and I as we sifted through the data, documents and interviews," Skamenca said. "Because the story involved high-ranking state leaders, pressure not to do the story was present. After a month-long investigation, we just wanted to get the story on air. That we did, and winning a national Murrow is thoroughly gratifying."
To find and compare the data, Skamenca and Wynn used resources at the National Institute for Computer-Assisted Reporting, a joint program of Investigative Reporters and Editors, Inc. and the Missouri School of Journalism. Both IRE and NICAR are headquartered at the School. NICAR helps train journalists to find and analyze data.
"Throughout the journalism profession, the importance of the data analysis – and who does it – often goes unrecognized and certainly under-appreciated," said Brant Houston, executive director of IRE. "Through NICAR, however, this school and IRE have been changing this attitude – and the profession – story-by-story."
In addition to Skamenca's radio report, Wynn – a newspaper journalism major at the time – wrote a companion piece for the Columbia Missourian, the School's student-staffed, faculty-led daily city newspaper. Skamenca produced a similar piece for KOMU, the School's NBC-affiliate television station used as a lab for students.
"Dead Voters" also won first place for television in-depth reporting and second place for radio in-depth reporting in the Society of Professional Journalists' Mark of Excellence Competition, in addition to first place in the investigative reporting category of the Kansas City Press Club's Heart of America Awards.
While the back-to-back Murrow Awards have left a legacy at KBIA, Ashworth said Skamenca's contributions to the station cannot be overlooked.
"August has taught all of us in the KBIA newsroom about dedication, tenacity and passion for the craft of journalism," she said. "He believes in its worth and its ability to change society for the better. That's been inspiring to see and to work closely with."
Wynn is now the data editor at the Springfield (Mo.) News-Leader. Skamenca will graduate in August and has contributed to ABC News Radio on recent stories, including the murder of Overland Park, Kan., teenager Kelsey Smith in early June and the F-5 tornado that destroyed Greensburg, Kan., on May 5.
Updated: April 17, 2020
Related Stories
Expand All
Collapse All
---