Checking in during COVID-19
As her time at Mizzou ends, one journalism student is helping provide community-specific information about COVID-19.
By Brian Consiglio
MU News Bureau
Columbia, Mo. (May 15, 2020) — In high school, Zia Kelly never imagined studying at the University of Missouri, let alone reporting for her college town during a pandemic.
"I was a Jayhawk through and through, since my dad is a professor at the University of Kansas," Kelly said. "It wasn't until I decided to study journalism that I really even gave Mizzou a look."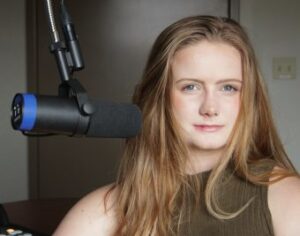 Kelly is a senior ready to virtually graduate in May with degrees in radio journalism and public health. She has been reporting, anchoring and producing for KBIA, the Missouri School of Journalism's National Public Radio affiliate station, for more than two years, covering stories about public health and criminal justice. Her studies in the School of Health Professions have helped her while she's reporting.
Even though her senior year isn't going as expected, Kelly continues to serve Columbia as an assistant producer for KBIA's "The Check In," a daily community forum for local leaders to discuss different aspects of the pandemic. With the several ways COVID-19 is affecting Columbia and the areas surrounding, the show provides a platform for leaders and experts to share actionable, community-specific information.
The path to Mizzou
Kelly's path to studying both public health and journalism at Mizzou began after attending a journalism conference in high school. Many of the students she met mentioned that they were applying to Mizzou. So, she decided to take a tour.
"Getting an orientation from a Pulitzer winner on your first visit kind of made an impression," Kelly said. "The opportunity to work at professional news outlets during your undergrad is pretty special. So, I was sold."
Kelly enrolled at Mizzou as a Walter Williams Scholar in 2016. Each scholar is assigned a mentor – hers was the outgoing executive director of the Association of Health Care Journalists, Len Bruzzese. He gave her the opportunity to volunteer for the association and to attend the association's annual conference in Orlando. As she attended sessions and spoke with professional public health reporters, Kelly began appreciating how intersectional public health reporting can be. She has since become a paid part-timer for AHCJ and has attended multiple conferences and workshops.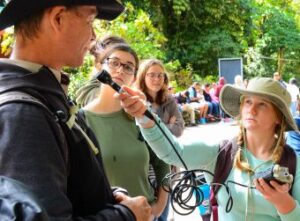 "Zia has shown an interest in taking on any assignment," said Bruzzese, also an associate professor in the School of Journalism. "She realized she needed to start building her career the minute she started school, not wait until she graduated."
Kelly's reporting has changed the way she thinks about public health stories.
"Heath stories are economic stories," Kelly said. "Business stories deal with public health, and so do environmental stories. Stories about class and race, all of those things have public health ramifications. I saw that through health reporting, I could tell stories that got at the fundamental aspects of life."
"The Check In"
Now, Kelly is working with her peers, Hannah France and Maddie Conte, to produce "The Check In." Her responsibilities as an assistant producer include researching and calling guests, conducting pre-interviews and writing questions for the host.
Kelly finds reporting from Columbia interesting since it is surrounded by rural communities. The station has had calls from people in rural areas who are overwhelmed and worried about health care access. Kelly is grateful to give those communities a voice where national media may not.
"I think that there's real value in actually hearing about how those folks have been failed by the system," Kelly said.
An episode she especially enjoyed focused on nursing across the state during the pandemic. They invited health care workers, retired nurses and members of the community to thank the nurses who are on the front lines during the crisis.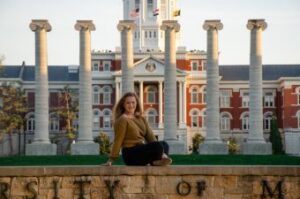 "Nursing is a tough job for some tough people," Kelly said. "It's really gratifying to give people who are on the front lines comfort and a platform to talk about what they're doing and what they need."
Moving forward as a Tiger alumna
As she looks forward to her graduation, Kelly sees that Columbia has become more than just a place she passes through to get her diploma. Her reporting has made her a member of the community.
"As an anchor, community members would hear my voice twice a week while they were driving to work," Kelly said. "Covering community events and local government really made me feel a part of Columbia more than I think I would if I were just a traditional university student."
Bruzzese is confident that Kelly's education, built on learning by doing, will take her far.
"Zia's intense interest in public health issues, combined with her journalistic discipline, should make for a fascinating career," Bruzzese said.
The pandemic has raised concern for Kelly about how murky information can be, as even good faith reporting can be stacked against commentaries and media personalities that potentially distort truth and spread misinformation. So, she is interested in making the information economy a focus within her graduate studies. No matter where her future leads, Kelly believes the impact KBIA has had will be lasting.
"It feels good to be an authoritative voice that gives actionable and community-specific information during a time where there's a flood of constantly changing or sometimes completely fake news," Kelly said. "Being at KBIA has been my most valuable experience at the J-School. Working with everybody there has been so formative as a reporter and lover of public media, but also just as a human being."
Updated: November 12, 2020
Related Stories
Expand All
Collapse All
---