Missouri Journalism students honored with SPJ Mark of Excellence awards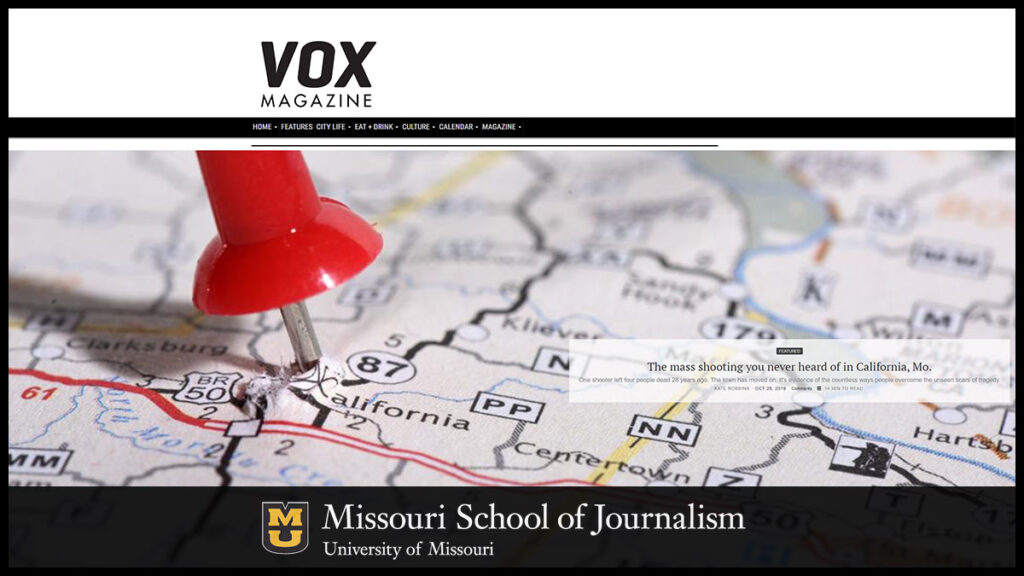 Staff of Vox Magazine recognized as Best Student Magazine and Best Affiliated Website
Columbia, Mo. (May 4, 2020) — The published work of 21 Missouri School of Journalism students at KBIA-FM and Vox Magazine has earned Region 7 Mark of Excellence Awards, including nine first-place wins, in a competition sponsored by the Society of Professional Journalists for the best in student journalism.
SPJ Region 7 includes Iowa, Kansas, Missouri and Nebraska. First-place regional winners advance to the national round of judging, which is ongoing. National winners will be announced in mid-May.
"It's always gratifying to see the work of our students recognized this way," said Heather Lamb, associate professor and Vox editorial director. "Every piece represents a collaboration – not only among the magazine staff, but also with the incredible people in our community who let us tell their stories."
The staff of Vox Magazine won two categories: Best Student Magazine and Best Affiliated Website.
A group of digital editors and journalism teaching assistants manage all digital products at Vox, including the website, newsletters, analytics and social media.
"Our team is small and mighty," said Sara Shipley Hiles, associate professor and Vox digital director. "It's gratifying to see their hard work recognized."
MOE Awards entries are judged by professionals with at least three years of journalism experience. Judges were directed to choose entries they felt were among the best in student journalism. School divisions are based on student enrollment, including both graduate and undergraduate. Large schools have at least 10,000 students and small schools have 9,999 or fewer students.
Founded in 1909 as Sigma Delta Chi, SPJ promotes the free flow of information vital to a well-informed citizenry; works to inspire and educate the next generation of journalists; and protects First Amendment guarantees of freedom of speech and press. The School's chapter was founded in 1913.
Region 7 Mark of Excellence Awards went to the following Missouri Journalism students:
Art/Graphic
Feature Photography
Photo Illustration
Magazines
Best Student Magazine

Winner: Vox Magazine, by staff of Vox Magazine

Non-Fiction Magazine Article

Winner: Catherine Wendlandt, Under the Table
Finalist: Michael Connolly, Smoker's Paradise
Finalist: Staff of Vox Magazine, United in Debt
Radio
Radio Feature

Winner: Emily Aiken, Preserving Pennytown: A small church contains a world of memories
Finalist: Sidney Steele: Ayanna Shivers is making history as mayor of Mexico, Mo.

Radio In-Depth Reporting

Winner: Isabel Lohman and Mawa Iqbal: After semester of tumult, Columbia parents and officials still at odds over police in schools
Finalist: Aviva Okeson-Haberman, Anna Lewis and Caitlyn Rosen: A Roe v. Wade challenge could be coming. Will it come from Missouri?

Radio News Reporting

Finalist: Kassidy Arena: ASL is on the rise – but it's not always part of the deaf experience
Finalist: Zia Kelly: New center addresses recidivism by connecting former offenders with resources
Online
Online News Reporting

Winner: Aviva Okeson-Haberman: How Missouri's Senate passed a restrictive abortion bill overnight

Online Feature Reporting

Finalist: Cary Littlejohn, Brooke Johnson, Sten Spinella and Elena Cruz: Finding Home

Online In-Depth Reporting

Finalist: Kyra Haas and Aviva Okeson-Haberman: Thousands call Missouri's adult abuse hotline, but only some get through

Best Affiliated Website
Podcast
Podcast

Finalist: Molly Dove: Intersection – Combating hunger in Missouri
Finalist: Kassidy Arena: Intersection – Navigating the world of sound with hearing loss
Videography
Online/Digital Feature Videography

Winner: Fiona Murphy: Sharp End
About KBIA
KBIA, mid-Missouri's NPR-member station, reaches 15 counties and has served mid-Missouri since 1972. KBIA is a university-licensed, community-supported not-for-profit institution, actively involved in the life of the mid-Missouri area. The station is the area's largest provider of arts programming, serving more than 30,000 listeners and members each week.
About Vox Magazine
Vox Magazine is an award-winning, cross-platform city publication where Missouri School of Journalism students, supervised by professionals, are the writers, editors, designers, photographers and managers. It keeps readers informed about what is happening and where to be in Columbia, Mo. Vox publishes a monthly print edition and a website, providing insight on local news and culture. The print edition has a circulation of 10,000 and is distributed in the Columbia Missourian on the last Thursday of the month. It can also be picked up at drop locations around Columbia.
Updated: November 12, 2020
Related Stories
Expand All
Collapse All
---