Four National Winners and Four National Finalists: Missouri Journalism Work Earns Eight SPJ Mark of Excellence Awards
Columbia, Mo. (May 8, 2012) — Four national winners and four national finalists – Missouri School of Journalism students excelled in the Society of Professional Journalists 2011 Mark of Excellence Awards, recognizing collegiate work published or broadcasted during 2011. This year, student journalists from across the country submitted more than 4,000 entries.
Winners and finalists were previously recognized by receiving first place in one of the SPJ's 12 regional competitions. Each first-place regional winner advanced to the national competition.
Top row, from left: Caitie Carter, Ted Hart, Sarah Hoffman, Eric Holmberg, Jonah Javad, Brian Johnson, Ileana Llorens, Nicole Oran. Second row: Brad Racino, Tim Rice, Shea Roll, Nick Schnelle, Samantha Sonderen, Emily Spain, Jessica Walsh.
---
First-place national winners will be recognized at the Excellence in Journalism 2012 conference Sept. 20-22 in Fort Lauderdale.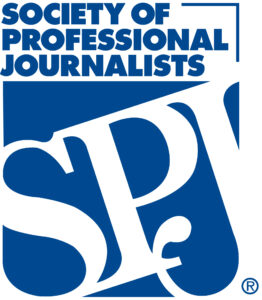 The Missouri journalism winners of the SPJ National Mark of Excellence Awards are:
Non-Fiction Magazine Article
National Winner: "The Secret Life of Mules" by Eric Holmberg, writer; Caitie Carter, editor; Berkley Hudson, writing coach; and Mike Jenner, Vox editorial director
Online News Reporting
National Winner: "Student Veterans" by Ileana Llorens, Nick Schnelle, Mallory Benedict, Dalene Rovenstine, Zoey Larsen, Kayla Alewel, David Cawthon, Ryan Cornell, Amanda Harrison, Ted Hart, Jon Hadusek, Rachel Krause, Nicole Oran, Jessica Walsh, Shea Roll, Samantha Sonderen, Andrew Williams, Deron Dalton and Tim Rice
Television News Photography
National Winner: "Volunteers Send Care Packages to Marines" by Emily Spain
Television Sports Reporting
National Winner: "Striking Chords" by Jonah Javad Mirfendereski
Best Student Magazine
National Finalist: "30 Under 30," Vox magazine
Feature Writing
National Finalist: "Citizens for Justice" by Brad Racino
General News Reporting
National Finalist: "Small-town Residents Saddened by Prospect of Post Offices Closing" by Sarah Hoffman
Television In-Depth Reporting
National Finalist: "The Price of Parking" by Brian Johnson
Updated: June 8, 2020
Related Stories
Expand All
Collapse All
---