Missouri School of Journalism Students Earn 29 SPJ Regional Mark of Excellence Awards
By Nathan Allen
Master's Student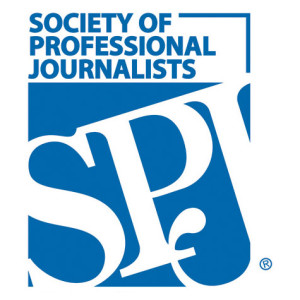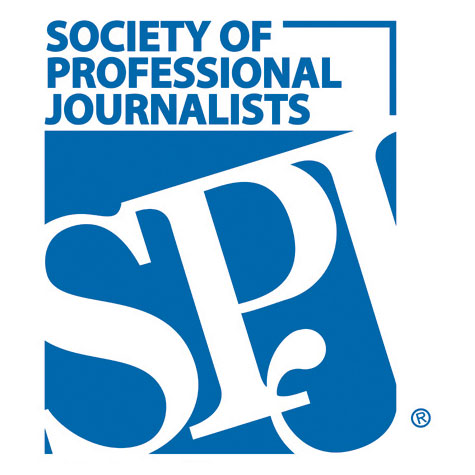 Columbia, Mo. (April 13, 2012) — The published work of 22 Missouri School of Journalism students earned Region 7 Mark of Excellence Awards, a competition sponsored by the Society of Professional Journalists for the best in student journalism. Several students received multiple awards.
Missouri students earned 29 awards by placing in 16 of the 33 possible categories, including 15 first-place wins. They swept five categories by winning the first-, second- and third-place rankings.
The Missouri School of Journalism did particularly well in the television categories. Students received 15 of the potential 18 placements in the eight television categories.
"I do think that this is the largest number of winners we have had since I have been advising the chapter," Charles Davis, associate professor, said. "This speaks to my colleagues' willingness to pitch in and encourage students to submit work. It is testament to the amazing work the students do."
Top row, from left: Caitie Carter, Nick Gass, Victoria Guida, Sarah Hoffman, Eric Holmberg, Raymond Howze, Jonah Javad, Brian Johnson. Second row: Kylie McGivern, Brad Racino, Christopher Saunders, Sangeeta Shastry, Jessica Smith, Emily Spain, Todd Tumminia.
---
SPJ Region 7 includes Iowa, Kansas, Missouri and Nebraska. This year, the contest received more than 4,000 entries across SPJ's 12 regions.
The honorees were awarded certificates on March 31 during the Region 7 SPJ Spring Conference held at the Iowa State University Memorial Union in Ames. First-place regional winners will advance to the national round of judging. National winners will be announced in late April.
The stories were published in the Columbia Missourian or aired on KOMU-TV, the school's real-media, community-based news outlets.
Founded in 1909 as Sigma Delta Chi, SPJ promotes the free flow of information vital to a well-informed citizenry; works to inspire and educate the next generation of journalists; and protects First Amendment guarantees of freedom of speech and press. The school's chapter was founded in 1913.
Missouri School of Journalism winners are:
Best Student Magazine
First Place: Vox Magazine
Non-Fiction Magazine Article
First Place: "The Secret Life of Mules" by Eric Holmberg, Caitie Carter and Mike Jenner
Breaking News Reporting
Second Place: "Kahler Murder Trial: Son Tells Court His Father 'Shot My Mom'" by Sangeeta Shastry
Third Place: "Timothy Wolfe named UM System President" by Zach Murdock and Raymond Howze
Feature Writing
First Place: "Citizens for Justice" by Brad Racino
General News Reporting
First Place: "Small-Town Residents Saddened by Prospect of Post Offices Closing" by Sarah Hoffman
In-Depth Reporting
First Place: "Residents of Regency Trailer Park Trapped Between City, Park Management" by Brad Racino
Second Place: "In Testimony in Ryan Ferguson Case, a Question of Memory" by Sangeeta Shastry
Third Place: "Department of Mental Health Faces Overtime Issues from Understaffing" by Victoria Guida
Online Feature Reporting
First Place: "30 under 30" by Ileana Llorens, Kristin Kellogg and Rhonda Prast
Online News Reporting
First Place: "Student Veterans" by Ileana Llorens, Kristin Kellogg and Rhonda Prast
Radio In-Depth Reporting
First Place: "Joplin Rebuilding, with Faith" by Matt Evans
Radio News Reporting
First Place: "Fire Destroys Historic Boonville Restaurant" by Elizabeth Trovall
Second Place: "Remembering Libya, Remembering Ghadafi" by Nick Gass
Television Feature Reporting
First Place: "Keeping His Cool " by Jonah Javad
Second Place: "What Missouri Fans Can Expect from SEC Tradition: Bulldogs Style" by Kylie McGivern
Third Place: "Missouri Veteran Finds Hope in the Perfect Fit" by Kylie McGivern
Television In-Depth Reporting
First Place: "The Price of Parking" by Brian Johnson
Second Place: "Missouri Automotive Industry Makes a Comeback" by Kylie McGivern
Third Place: "MU Alumni in KC Root to Keep Rivalry Alive" by Emily Spain
Television General News Reporting
First Place: "Keep on Truckin'" by Jonah Javad
Second Place: "Three-Year-Old Tells Experience of Joplin Tornado" by Brian Johnson and Todd Tumminia
Third Place: "Target 8 Investigation: The History of Peppers Nightclub" by Jessica Smith
Television Breaking News Reporting
First Place: "President Obama Visits Joplin" by Jonah Javad
Television News Photography
First Place: "Volunteers Send Care Packages to Marines" by Emily Spain
Second Place: "Keep on Truckin'" by Jonah Javad
Television Sports Reporting
First Place: "Striking Chords" by Jonah Javad
Second Place: "A Weekend for the Aces" by Jonah Javad
Third Place: "Pierre DeClue: A Slideshow of Life" by Christopher Saunders
Updated: June 5, 2020
Related Stories
Expand All
Collapse All
---