24 Missouri Students Participate in Excellence in Journalism Conference in Nashville
The Event Offered Networking, Educational and Professional Development Opportunities
By Caroline Murray
Columbia, Mo. (Oct. 2, 2014) — Opportunities to network with alumni, learn from industry experts and receive critiques of resumes were highlights of the 2014 Excellence in Journalism conference hosted by the Society of Professional Journalists and the Radio Television Digital News Association in Nashville. Approximately 950 journalists attended this year's conference.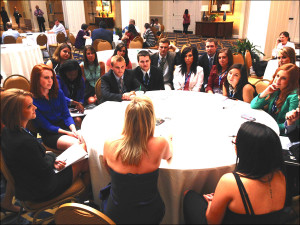 Twenty-four Missouri School of Journalism students who are members of the organizations' student chapters attended the three-day meeting. Advisers attending were Assistant Professor Jeimmie Nevalga, SPJ, and Associate Professor Randy Reeves, RTDNA. Both are members of the radio-television faculty. Assistant Professor Judd Slivka, a member of the convergence journalism faculty, also serves as an adviser for SPJ.
Some of radio-television's prominent names delivered keynote addresses and other presentations on topics facing the industry today. Among the presenters were former NBC Sports announcer Dick Ebersol, NPR's Michele Norris and Re/Code co-founder Kara Swisher, who each talked about their careers and the changes in the journalism field.
"This conference was a chance to learn from some of the best working professionals in the business," Reeves said. "These are people are the very top of their craft with unique insights on both technique and the issues facing the industry."
Several presentations were also offered on specific skills, including KARE-TV reporter Boyd Huppert's session on narrative storytelling, and a session from Al Tompkins, senior faculty in broadcast and online at the Poynter Institute, on tight writing for television and video. Bob Priddy, BJ '63, news director of Missourinet, moderated a session on the lessons journalism learned from the protests in Ferguson.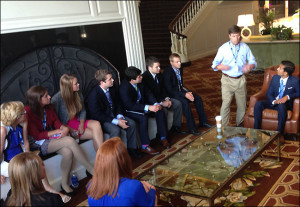 Barbara Cochran, the Curtis B. Hurley Chair in Public Affairs Reporting and director of the School's Washington Program, produced and moderated a panel on gender discrimination in journalism.
Cochran's session, "Pushing for Parity: How Women Are Faring in Newsrooms," addressed obstacles and solutions to the continuing lack of parity for women in newsrooms in staffing levels, leadership positions and pay. Panelists included leaders from major outlets such as Kara Swisher of Re/Code, Bryan Monroe of CNN and Margaret Low Smith of the Atlantic. Jill Geisler of the Poynter Institute also served as a moderator. Among the solutions discussed was giving leadership skills training to women students in journalism schools.
Students and Missouri Journalism alumni had several opportunities to connect throughout the conference, both at sessions like Cochran's and at external gatherings. At a social sponsored by CNN, students and advisers visited with Samantha Kubota, BJ '13, and Rebecca Woolf, BJ '13, both producers for WBIR-TV in Knoxville, Tennessee; and Veronica Polivanaya, BJ '13, a producer for CBS 13 in Sacramento, California.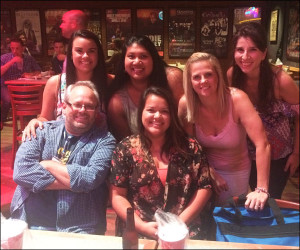 Rachel Wittel, radio-television journalism student and president of School's RTDNA chapter, said connecting with MU alumni and big names in the industry inspired her and her peers as they prepare for upcoming job searches. Students had the chance to meet both Huppert and Tompkins during downtime for resume reviews and just to chat.
"Making those connections and getting those critiques of our work was an irreplaceable opportunity," Wittel said. "Our resume reels have definitely improved since then, and we are completely motivated to improve from now on. We're motivated to better our work and get that foot in the door with news stations as we start applying for jobs in the spring."
Conferences attendees were able to learn skills important for job-hunting both in sessions, which included topics like personal branding and portfolio building, and in one-on-one time with the many professionals in attendance.
"There were so many opportunities to network with journalists we may never have met otherwise," said Christina Santiago, president of Mizzou SPJ. "Knowing someone where you're applying for an internship or job can help get your resume at the top of the pile. Keeping in touch with the people we met at EIJ could potentially connect us to work down the road."
Updated: July 30, 2020
Related Stories
Expand All
Collapse All
---