Associate Professor Jeimmie Nevalga honored with 2021 Maxine Christopher Shutz Award and Lecture for Distinguished Teaching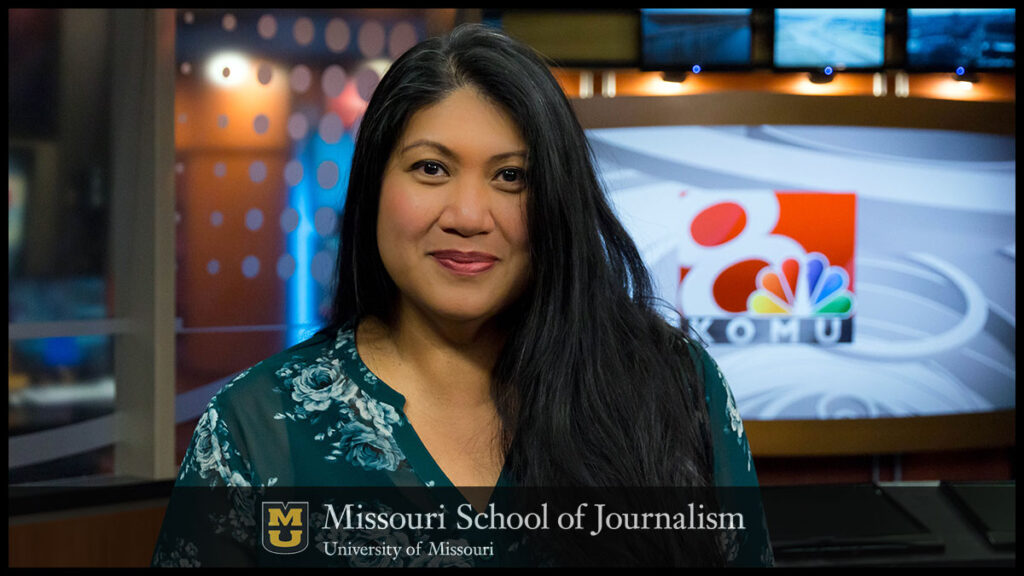 Nevalga, an associate professor at the Missouri School of Journalism, was the first woman and person of color to lead news operations at KOMU-TV.
Columbia, Mo. (Sept. 1, 2021) — Missouri School of Journalism Associate Professor Jeimmie Nevalga has received the 2021 Maxine Christopher Shutz Award and Lecture for Distinguished Teaching. Nevalga is the second University of Missouri journalism teacher in three years to receive the award, which recognizes exemplary teaching at MU and comes with a $2000 prize.
"I'm so honored to receive this award, and I'm grateful to all the people at the School of Journalism who have helped me get to where I am today," Nevalga said. "I hope that I can give back to my students as much as my colleagues and managers have given to me. I've always felt supported — that if there was a good idea, we would try to make it work. And I want my students to feel the same way."
The award is presented to a full-time faculty member who has demonstrated exemplary effort to involve undergraduates in active learning experiences and to personalize the undergraduate experience of students.
"Jeimmie's style of guiding, mentoring, teaching, and nurturing has prepared hundreds of students for their professional careers, and she is a mentor to many long after they have earned their diploma," said David Kurpius, Dean of the School of Journalism. "Given her commitment to connecting with students and maximizing their experience at Mizzou, there is no one more deserving of this award."
In February, Nevalga — a veteran TV producer — became the first woman of color to be named news director at KOMU-TV. She earned a bachelor's degree from the Missouri School of Journalism in 2000, and before joining KOMU and the School of Journalism in 2011, she served as a producer at WGN-TV in Chicago and WISN 12 in Milwaukee.
One of Nevalga's current broadcast journalism students, senior Alyssa Jackson, recalled witnessing the memorable impact her teacher made at a National Association of Black Journalists conference.
"How can someone you've never met before make you feel so seen?" Jackson said. "She made me feel like I could conquer any aspect of the J-School. She's one of the biggest reasons me and so many others will graduate from one of the top journalism schools in the nation."
For Noah Klein, a junior studying broadcast news anchoring and reporting, Nevalga's willingness to go above and beyond for the benefit of her students makes her an ideal mentor.
"Professor Nevalga's door is always open," Klein said. "She did not have to give me extra responsibility. She absolutely does not have to answer my phone calls at 8 a.m. on Saturday mornings. Yet, she always does. As an undergraduate student I do not think I would be who I am or where I am without Professor Nevalga's guidance."
Maxine Christopher Shutz established the award in 1983, two years before her death, to recognize distinguished teaching by faculty members at MU. Shutz.was a member of the Board of Curators from 1953-59 and was the first woman to be appointed to serve a full six-year term. An alumna of the Class of 1923 with a Bachelor of Arts degree, she was President of the freshman class, active in the YWCA, and received the Omega Award in sociology at graduation.
Updated: September 1, 2021
Related Stories
Expand All
Collapse All
---