18 Freshman Interest Groups to Focus on Journalism for Fall 2014
Missouri Journalism Faculty and Students Will Help New Undergraduates Adjust to Campus Life
Columbia, Mo. (July 23, 2014) — Helpful advice, answers to questions and fun learning activities are some of the benefits of belonging to a Freshman Interest Group, say Missouri School of Journalism students who have participated in the program.
This fall, Marleigh Anderson, Diamond Stacker, Tracy Cook and Daphne Yu are among those who will work as peer advisers (PA) for 18 journalism-related FIGs, offering new students resources to excel at the University of Missouri.
In addition to FIGs that allow students to explore journalism, some focus on specific areas. These include radio-TV, photojournalism, convergence journalism, sports and women's studies. There are also FIGs for Walter Williams Scholars and honors students.
"Being a part of a Walter Williams Scholars FIG gave me both faculty and student contacts to go to within the J-School whenever I have questions or need advice," said Anderson. "Having a very knowledgeable PA made all the difference in my freshman year running smoothly." Anderson, a sophomore, is a dual major in journalism and English from St. Charles, Missouri.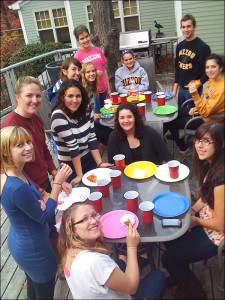 The peer advisers work with a faculty member to develop a curriculum that will provide an introductory overview of journalism.
These lessons helped Stacker better understand the wide variety of opportunities the field of journalism offers.
"We looked at videos, and we had to decide if it was journalism or not," Stacker said. "I liked that because we got to compare what we considered journalism versus what others considered to be journalism." Stacker, a sophomore from Calumet City, Illinois, plans to study strategic communication and minor in Spanish.
Cook hopes to create a peer reference group and foster an integrated learning experience for freshmen.
"I want to connect faculty, students, disciplines and campus experiences in a coherent, purposeful way that will enhance their academic success," she said. Cook, a senior from Philadelphia, is a dual major in print and digital news and economics.
The Media for the Future FIG, a part of Mizzou Advantage, will connect students with innovation and trends in journalism. Associate Dean Lynda Kraxberger will help students create VLOG posts (video blogging). In their final projects, students will experience entrepreneurial journalism. They will identify and explain a real-world media or communications problem, then imagine a possible company that could provide a solution for that problem.
Missouri Journalism faculty and staff who will work with a FIG during the fall 2014 semester are: Jackie Bell, Brian Brooks, Frank Corridori, Suzette Heiman, Berkley Hudson, Kraxberger, Mike McKean, Karen Mitchell, Jeimmie Nevalga, Katherine Reed, Randy Reeves, Randy Smith, Brian Steffens, Maggie Walter, Rob Weir and Stacey Woelfel.
The relationships developed in the FIGs often continue throughout the students' time on campus. Walter enjoys connecting with students when they are freshmen and working with some of them later in the Columbia Missourian.
"They already know someone in the newsroom, which helps in their transition," Walter said, a Missourian editor. "And, with our previous association, I can help them move up faster in developing their skills and talents. Often, I lure them into the copy editing and design realm, and I can give them in-depth references and help them find internships and jobs."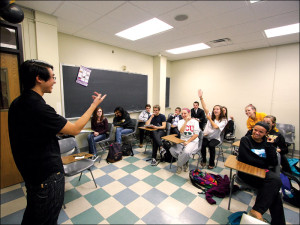 Woelfel, the news director for KOMU-TV, expressed the same sentiment.
"Meeting the students that early in their time at Mizzou means that, for some of them, I get to work with them their entire four years in college, watching them grow from a campus newbie to a veteran reporter or anchor at KOMU," he said. Woelfel will become the director of the new Jonathan B. Murray Center for Documentary Journalism at the School on Sept. 1.
Associate Professor Berkley Hudson said he loves the students' excitement of being new to Mizzou and new to the Journalism School. Among the out-of-class activities he offers them is pizza party at his home.
"By being part of a cohort that lives together, goes to class together and studies together, the students form lifelong bonds," Hudson said. "As a teacher, I appreciate helping them make those connections."
By the end of the semester, the goal is to help FIG students find their passion.
"I hope to be able to help my students discover something they can see themselves enjoying in the future, whether it has to do with journalism or not, and pursue it to their heart's content," said Yu, a sophomore from Columbia, Missouri.
Updated: July 27, 2020
Related Stories
Expand All
Collapse All
---